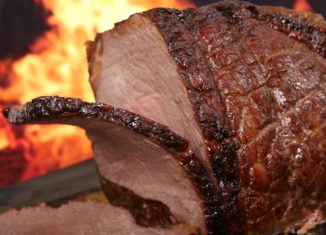 It can be tricky to get a large group of people together, but catering for a crowd isn't as difficult as it sounds! The trick is getting the right dish that everyone will enjoy. And for that, we've got you covered. Here are some of the best pork dishes you could serve a large group:

Pork Tenderloin with Potatoes and Shallots
Pork Roast with Red Wine Sauce
Tuscan Pork Chops
Pulled Pork Sandwiches.
Pork Tenderloin with Potatoes and Shallots
This dish is easy to make, and the pork tenderloin will be a hit with everyone. All you need to do is season the pork and sear it for a couple of minutes on each side before placing it in an oven-safe dish and topping it shallots. Add several bags of mini potatoes into the pan. Put the dish in the oven for around 45 minutes or until the potatoes are tender, then serve.
Pork Roast with Red Wine Sauce
Whole roasted pork loin is one of the best dishes when catering for large groups. This dish has a lot of flavour, and it's also easy to make. Plus, it can be set out in slices on platters for people to grab as they come in.

This recipe includes potatoes and shallots in the mixture, which makes it really delicious! You can buy pre-made mashed potatoes or simply boil your own potatoes with unsalted butter until they're soft. If you want to serve this dish with red wine sauce, just mix together some red wine (1/2 cup), brown sugar (3 TBSP), soy sauce (2 TBSP), pepper (1 tsp) and garlic salt (1 tsp).
Tuscan Pork Chops
Tuscan pork chops are the perfect dish for a large group. This dish is easy to make and can feed up to six people. All you need to do is boil some mini potatoes and create a side of red wine sauce. Grill the pork chops on a cook top and top with sun-dried tomatoes. Serve plated with your choice of vegetable side dishes.
Pulled Pork Sandwiches
To make pulled pork sandwiches, place one to two pounds of cooked pulled pork in a slow cooker. Add your favourite barbecue sauce and two cups of water. Cook on low for six hours or high for three hours, then shred the meat with a fork. Serve on rolls with coleslaw, mayonnaise, pickles, honey mustard, and other condiments of your choice.

This dish is great for feeding groups because it cooks in the slow cooker without much fussing from you! It is a great option for weddings or catering at birthday parties. Just put all the ingredients together before everyone arrives, turn it on, and you're done. It's also easy to customize so everyone will enjoy it according to their taste preferences.
When you've finally decided on what type of pork dish to go for at your social event, then why not read up on the best sauces for pork dishes recommended by The Roasting Pig.