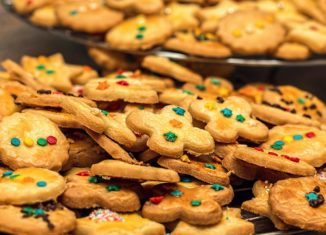 Christmas has long been a time for families to get together and enjoy delicious treats. From gingerbread houses to eggnog, there are plenty of sweet holiday traditions to indulge in.
So many delicious Christmas cookies are famous worldwide, and each country has a unique recipe enjoyed during the holiday season. Here are some of the most popular cookies from around the world.
Struffoli (Italy)
If you've ever been to Italy during the holiday season, then you know that one of their most beloved traditions is the making and eating of struffoli. These colorful Italian Christmas cookies are made from fried dough and then dipped in honey. When done right, it can make a delicious treat. Have you ever tried the Italian version? Try it at least once; it's definitely worth the effort.
Struffoli are an integral part of any festive Italian gathering – so make sure to grab a plateful when you're invited. And don't forget to add some sugar and sprinkles; these cookies are even better with a bit of extra sweetness.
Vanillekipferl (Germany)
Put on your holiday baking apron and experience a unique cookie-making challenge with the Vanillekipferl. This popular Christmas treat is one of Germany's cultural and culinary delights. Most Germans have fond memories of rolling, pressing, and almond-coating this festive cookie which captures the feeling of the season in all its scented goodness.
With every bite of these crescent-shaped confections comes an aroma that will transport you to a traditional German Christmas market. No matter what flavorings you use to your taste, Vanillekipferl sure knows how to spread holiday cheer.
Kourambiedes (Greece)
You're missing out if you've never heard of Kourambiedes, the famous Greek Christmas cookie. Traditionally melting in your mouth and coated in a thin layer of powdered sugar, Kourambiedes is the perfect treat to share with family during the holiday season. Originating in Greece centuries ago, these buttery marshmallow cookies are an ode to their country's proud history and culture.
Peremech (Russia)
Peremech, an old Russian classic, is a festive cookie that's sure to bring a smile to the face of everyone who tastes it. This traditional Christmas cookie is made with honey, butter, nuts, and raisins – all deliciously combined to create a delicious melt-in-your-mouth experience. Expertly crafted and usually hand-shaped, Peremech is a treat without which no Russian holiday celebration is complete.
Speculaas (The Netherlands)
Speculaas, a traditional Dutch cookie, is one of the most beloved Christmas treats in The Netherlands. These spiced biscuits are usually shaped like windmills or men and women wearing traditional Dutch costumes – making them an extra special treat to enjoy during the holiday season. Speculaas have a crunchy yet crumbly texture and a flavor that comes from combining spices such as cinnamon, nutmeg, cloves, and cardamom.
Hallongrotta (Sweden)
Sweden is also home to a traditional Christmas cookie with a unique twist. Hallongrotta, or raspberry cave cookies, are almond-flavored treats shaped like small caves filled with raspberry jam for an extra special sweet treat. These delicate little morsels have been around for centuries and symbolize the joy of Christmas in Sweden. So if you're looking for something special, try Hallongrotta.
Polvorones (Spain)
Polvorones, or Spanish Christmas cookies, have been a favorite sweet treat throughout the centuries. These shortbread-like confections are made with flour, sugar, almonds, and a spot of brandy for an extra kick of flavor. They take their name from the Spanish word polvo, which means dust because they are usually dusted with powdered sugar to give them an extra unique finish.
Kolompeh (Iran)
Kolompeh, the traditional Iranian Christmas cookies, are an absolute delight to enjoy at festive gatherings. These sweet treats are made with a combination of dates, honey, and walnuts, giving them a unique flavor that will tantalize your taste buds. Kolompeh can be enjoyed simply as they are or served alongside tea – either way, you're sure to savor their sweet taste and be taken away with the flavors of the Middle East this Christmas.
Kifli (Hungary)
This traditional Hungarian cookie is made with a combination of walnuts and sugar, giving it a unique flavor and texture. Usually presented in crescents or cigar-shaped rolls, these treats are delightful to enjoy during the holidays and will certainly make your Christmas celebrations even more memorable.
Kourabiedes (Cyprus)
Last but not least, Kourabiedes is the traditional Cypriot Christmas cookie – and it will bring a smile to everyone who tries it. These delicious treats are made with butter, sugar, and almonds, giving them a unique flavor that will tantalize your taste buds. Usually coated in a thin layer of powdered sugar, Kourabiedes are a sweet reminder of the festive season. They can be enjoyed as they are or served alongside coffee as part of an elaborate treat.
They also often have an embossed design on top – a nod to their country's proud history and culture – if you're looking for a festive treat that stands out from the crowd, Kourabiedes is a perfect choice.
That's a wrap
If all of these tasty descriptions made your mouth water, why not make a fun baking day of it with your friends or kids and create some true USA cookie flavors at home? Or, you can check out https://thecravory.com/ for 'the ultimate cookie experience' delivered to your door if you want to spoil your favorite peeps without spending hours in the kitchen this festive season.