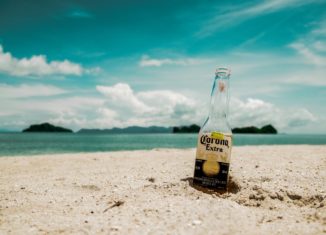 Have you adopted a low-carb lifestyle as of late and are trying your best to stick to it? Any time you make a change to your diet it can be a challenge and it will be a learning experience those first few weeks. And while you have full control over what you eat and drink at home, going out poses an entirely different issue as you need to be much more aware of what's low-carb friendly on a menu.
If you've got plans to head to the bar to have drinks with friends, then it's a good idea to brush up on "safe" choices in advance. Knowing which drinks are low carb will allow you to order like a pro so you can enjoy tasty drinks that don't throw you off your healthy eating habits and goals. Here are four low-carb drinks you'll want to be aware of.
Light Beer Is Often an Easy Option
If you want a no-fuss solution that is quick and easy to order, opt for a light beer. In general, most of these will be low carb but keep in mind that each brand will be different. You can easily research light beers in advance, making a mental note of those with low carb counts. As a bonus, light beer is also lower in calories for those mindful of their caloric intake.
Try a Low-Carb Keto Wine
Did you know there are many keto wine options available that are low carb and tasty? And even better, these low carb wines aren't just from one region; they can be found in regions all around the world. This means you don't have to sacrifice on flavor; instead, it's about knowing which ones are considered low-carb friendly. It's a good idea to do a quick online search of keto red and white wines before heading out so you've got some options available.
Light Seltzer Also Fits Into the "Safe" Category
Just like light beer, light seltzer can be another great option for the same reason. You just need to ensure no sugar has been added to the drink. Keep in mind that light seltzer can be an acquired taste, as they can be bitter or strong depending on the flavor. You may need to try a few different ones before you find a favorite.
Stick with Hard Liquor and Keep It Simple
Ordering hard liquor will adhere to a keto lifestyle, but where people go wrong is in what they mix with the alcohol. Remember, the mixer must also be low carb.
Hard liquor that you can order includes:
Whiskey
Gin
Vodka
Brandy
Tequila
If you want to do a shot, clearly any of these on their own would be fine.
Be Careful with Mixed Drinks
It's important to note that mixed drinks are where things can go way off course. Many will not be low-carb friendly, so you need to be well aware of what the mixture includes. Things such as margarita mix, anything with simple syrup, a sweet and sour mixture or agave won't be low-carb friendly.
Ask Your Server
The final tip is to ask your server or the bartender what to try. If the bar isn't too busy and conversation is possible, they may be able to suggest some fabulous low-carb drink options you weren't even aware of. With low-carb diets being so popular nowadays, many bars now offer multiple options.
If you're gearing up for a night out at the bar but you're worried about how you can stick to your low-carb diet, these drink options and tips will ensure you've got plenty to choose from.