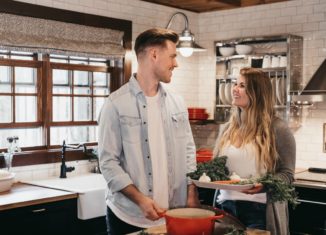 Valentine's Day is almost here which means that we're about to get all romantic and cozy, and even those who are without a partner can appreciate a night in with a romantic movie and some heart-shaped chocolate candies. But, if you're in a happy and committed relationship then you're probably going to do something nice with your beau, such as eating a romantic dinner together. However, going to a fancy restaurant can be a bit costly, while dinner at home costs nothing and allows you two more comfort and freedom to enjoy each other's company, so here are some dinner ideas that you could use on Valentine's Day.
1. Pasta is always a good choice
Maybe this isn't the most original suggestion out there, but it is definitely a tasty one, mainly if you're not the type that spends hours in the kitchen. There are many easy and tasty recipes, so if you're looking for quick and delicious dinner ideas, then look no further than pasta bolognese, pasta carbonara or even nutty chicken and lemon spaghetti. In case you're not eating carbs, there are still ways to treat yourself and your loved one to a tasty Italian dish, so if you're planning to stay at home, then feel free to browse various pasta recipes until you find something that you both like.
2. Consider something vegan
Vegan food often gets a bad rep, which is a shame, since there are so many dishes that are quite delicious, and what's even better, they're much more affordable than non-vegan ones. If your special someone is on a diet or prefers eating vegan stuff, then you should definitely consider making a pumpkin soup, some sweet potato and mushrooms cannelloni or even a seitan steak. If your partner believes that vegan food is bland and boring, so this Valentine's Day can be a great opportunity to actually prove them wrong.
3. You can never go wrong with pizza
If you're really out of ideas and your partner isn't helping with suggestions, then you can always get yourselves some pizza. Luckily, nowadays there are many variations around, from dairy-free to vegan, so you can actually step out of your comfort zone and make something different that will be enjoyable for both of you. And in case you're trying to eat clean, you can always opt for a low-calorie pizza as it will surely satisfy your appetite without causing any unnecessary weight gain. For some extra fun, you can also make two different types of pizzas, because there is nothing better than trying new food with the one you love.

4. Don't shy away from desserts
Valentine's Day is one of the sweetest holidays out there, and eating a dessert with your darling can only make it sweeter. Of course, there are many ready-made cakes and cookies that come wrapped in a fancy package, but the truth is, homemade food is always a better option, as it is more affordable and carries a special sentiment since you're the one preparing it. Therefore, feel free to surprise your partner by preparing a delicious raspberry cheesecake, simple velvet cake for two or chocolate caramel cream pie. Sweets, cakes and cookies are all around us, so don't hesitate to get inspired and prepare something delightful for you and your partner.
5. Make a cheese plate
Sometimes, dinner doesn't have to be an elaborately prepared meal because after all, it isn't about the food you eat, but about the time you're spending together with the one you love. So, in case you don't have time to look for recipes, you can always opt for a cheese plate that consists of a few types of cheese, crackers, olives, prosciutto, salami and some salad. Gouda, cheddar, brie, and goat cheese are excellent choices that you could use for your cheese plate. Making this type of meal doesn't require cooking, and it also leaves you with a lot of room for sitting in front of the TV with a glass of wine and some cuddling.
Conclusion
Preparing Valentine's Day dinner should be a fun task, so don't get too worked up because at the end of the day, your partner will surely appreciate anything you do for them, and if possible, try to include them in dinner preparation, as that will surely help you relax and enjoy each other's company even more.