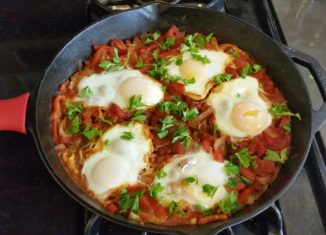 If you haven't already, remember Shakshuka because you will fall in love with this dish!
This beautiful dish is easy to make and full of healthy ingredients. It originates from Northern Africa from where it spread all over the world. To create Shakshuka, you need a pan, several ingredients, and the Shakshuka is almost ready.
Because of its vivid colors (mostly red), Shakshuka reminds us of summer, but it can be made throughout the year. It is a dish that can be served at any part of the day- for breakfast, easy lunch, or fast prepared dinner.
To create this lovely and tasty dish, you will need eggs, tomatoes, onion, and spices. It is usually made spicy, but if you don't like hot food, you can remove some ingredients that cause the spiciness. Those who like spicy use entire fresh hot peppers or jalapeño peppers, those who like the aroma of fresh herbs will add a leaf of fresh parsley or coriander.
Read more about Egyptian Food