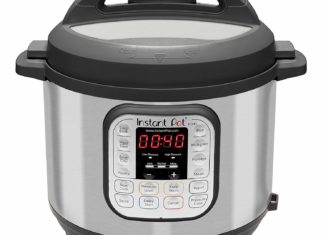 Design: Canadians designed the Instant Pot to save 70% power consumption and speed up the cooking rate to 2 to 6 times. Also, the pot is convenient and safe to use when cooking nutritious food. It is designed with stainless steel, which makes it has a high resistance to fingerprint.
7-in-1 Kitchen appliance: It is a smart Electric Pressure Cooker designed to serve the purpose of 7 kitchen appliances such as pressure cooker, rice cooker, slow cooker, steamer, yoghurt maker, saute', and warmer.
Controllable buttons: It has 14 in-built buttons for cooking your favourite dishes such as Soup, Meat/Stew, Poultry, Bean/Chilli, Saute', Rice, Steam, Multigrain, Porridge, Keep-warm, Slow Cook, Yogurt, Pasteurize and Jiu Niang. It also has an additional 24-hours timer that can be used for delayed cooking by automatically holding the food temperature until it is served.
Safety: It gives no noise, and preserved the temperature of the content in it by not leaking steam. Food aroma is retained in the pot without causing the kitchen to heat up. Food cooked with this pot is saved for your health because the pot is coated with non-stick coatings
Durability: it is very durable. It can stand the test of time because of its durable and elegant design that made its maintenance easy. It also has a lid holder that can be easily handled by both right and left-handed users.
Modern Technology: It has an embedded microprocessor that monitors both the temperature, and pressure for controlling the heating intensity, and keeps time.
Tested and Trusted: The device has gone through hundreds of laboratory test to test its optimal effectiveness. It has been designed to give an excellent cooking result, and eliminate common cooking mistakes that can cause food spoilage, and health harm. It has been certified by the UL that it is safe to use with its 10 proven safety mechanisms and patented technology that protects you doing use.
Accessories: the Instant Pot comes with a power supply cord of 35 inches with a 3 prong plug.
Review
The Instant Pot has made cooking comfortable for me by saving time and power consumption spent on cooking. This pot has cut my monthly energy consumption. I can cook rice faster with this device compared with my old rice cooker, and conventional pots. I also enjoy how it cooks frozen chicken to become soft and nice with the curry getting into the meat. The pot is quiet when in use, and cooks faster. My husband loves porridge made from the pot.