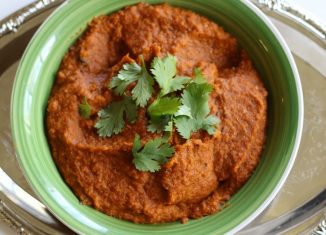 [Green Mango Chutney!](http://cookwithshrutisajjan.blogspot.com/2017/08/unripe-raw-mango-chutney-its-sweet-and.html?spref=bl)
Its a sweet and sour chutney, we can have this with Rice, Chapati, Roti, Idli, Dosa. You can store this chutney outside for 3 to 4 days, if you refrigerate you store this for about a month.
**Ingredients**
– Unripe /Raw/Green Mango -1
– Dry Coconut/Desiccated Coconut -4 tsp
– Dry Red Chili Powder -2 tsp
– Jaggery -2 tbsp(adjust as per sourness of mango)
– Cilantro 1/4 cup
– Garlic 4-5 cloves
– Salt to taste
Tempering (tadka)
– Cooking Oil -2 tsp
– Mustard seeds -1/4 tsp
– Cumin seeds – 1/4 tsp
– Curry leaves -8-10
– Dry Red Chili -1
** **
** Method**
1. Add the mangoes to the mixer jar and grind it ,as mangoes are little bit hard they take more time to blend so add them first and blend.
2. To the mangoes add dry coconut powder, dry red chili powder , Jaggery, Garlic, cilantro, and salt and grind , you can add little water and grind to a smooth paste.
3. Heat the oil in a pan, add mustard seeds , when they start popping add the cumin seeds and saute it for a minute, add the curry leaves, dry red chili.
4. Add the chutney to the pan and saute it for 3-4 minutes in a low flame after 3-4 minutes u will see the light bubbles on the edges then the chutney is ready .
5. Once it cools completely store it in a air tight container.