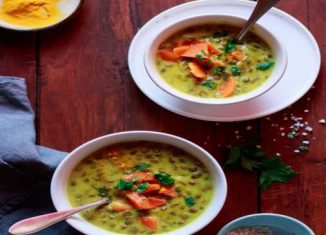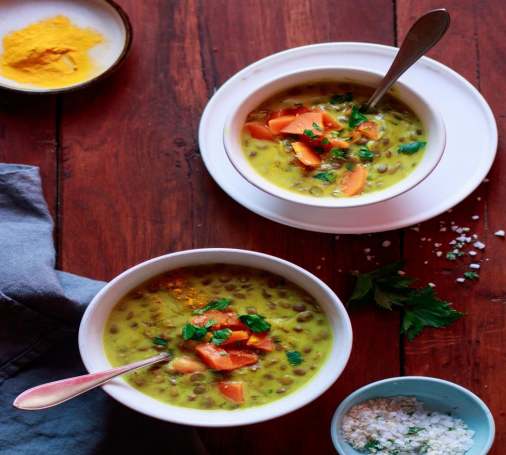 Shahi Daal
2017-09-11 15:15:12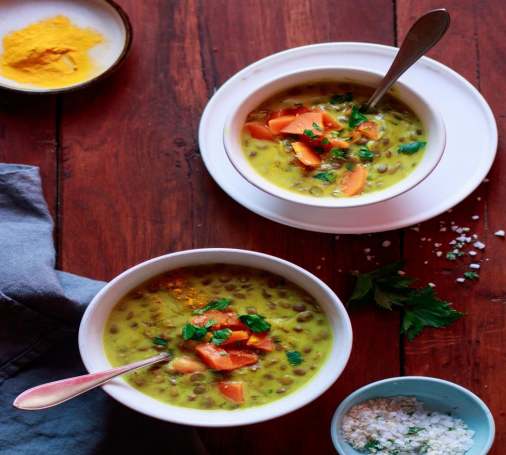 Serves 4
Ingredients
1/4 cup Toor Daal - split yellow pigeon peas

1/4 cup Chana Daal - split Bengal gram

1/4 cup Saabut Moong Daal - whole yellow lentil

1/4 cup Split Urad Daal - split black lentil

1/4 cup Saabut Masoor Daal - whole red lentil

3 tbsps vegetable/ canola/ sunflower cooking oil

2 large onions chopped fine

1 tsp coriander powder

1 tsp cumin powder

1/2 tsp turmeric powder

1/2 tsp red chilli powder

A pinch of asafetida

3 tbsps melted ghee

1 tsp Paanch Phoran (see recipe below)

2 large tomatoes chopped fine

5 tbsps yogurt whisked till smooth

Chopped fresh coriander to garnish
Add ingredients to shopping list
If you don't have Buy Me a Pie! app installed you'll see the list with ingredients right after downloading it
Instructions
Mix all the daals - Toor Daal, Chana Daal, Saabut Moong Daal, Split Urad Daal and Saabut Masoor Daal - together in a bowl and wash thoroughly.
Soak the washed daals in water deep enough to cover them completely, for 2 hours. Drain any water that is left and put the daals into a pan with water for boiling. Fill water such that the level is two finger digits above the surface of the daals.
Add salt to taste and boil till the daals are cooked - they will become absolutely soft. Add more water as needed. The finished consistency should be like that of thick oatmeal porridge.
In another pan, heat the oil on medium heat till hot. Add the onions and fry till pale golden in color. Now add the powdered spices and fry for 4-5 minutes, stirring frequently.
Add the cooked daals to this mixture and stir well. Press down with your stirring spoon to mash the daals roughly.
In another small pan, heat the ghee on medium heat. When hot, add the Paanch Phoran and fry till spluttering stops. Now add the tomatoes, yogurt and fry for 4-5 minutes.
Remove from fire and add to the daal mixture of before. Stir to blend and cook for 2 more minutes.
Remove from fire, put into serving dish, garnish with chopped coriander and serve.
Print
Food you should try https://foodyoushouldtry.com/