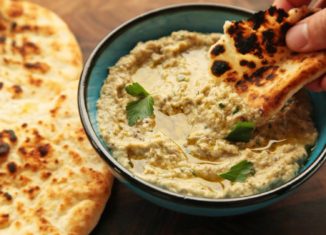 1. Ackawi (Akkawi)
Akkawi cheese is a white brine cheese originating from the city of Acre. Akkawi is commonly made with pasteurized cow's milk, but can also be made with goat or sheepmilk. This cheese is largely produced in the Middle East, notably in Israel, Palestine, Lebanon, Jordan, Syria, and Cyprus. In these regions, people usually eat it with a soft flatbread during lunch and dinner. Akkawi is hand-packed into square draining hoops and then cured in a salted whey brine for two days. The color is white and it has a smooth texture and a mild salty taste. It is commonly used as a table cheese eaten by itself or paired with fruit. The texture can be compared to Mozzarella, Feta or a Mizithra, since it does not melt easily. Akkawi can be stored up to a year. The texture and flavor is a result of its specific culturing from its curds that are kept together for a prolonged period longer than simpler tasting curd cheese such as Syrian cheese when akkai is transformed into cheese.
2. Baba ghanouj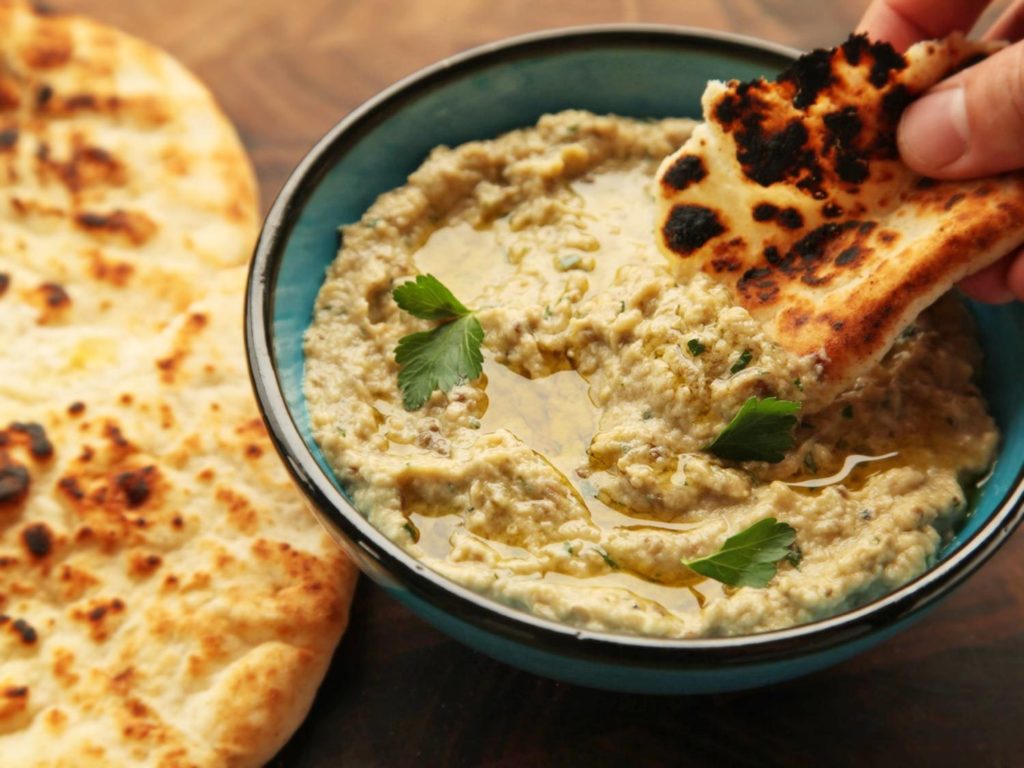 Baba ghanoush (also appears as baba ganoush or baba ghanouj) is a Levantine or Syrian dish of mashed, cooked eggplant that is mixed with tahina (made from sesame seeds), olive oil, and various seasonings.The traditional preparation method is for the eggplant to be baked or broiled over an open flame before peeling, so that the pulp is soft and has a smoky taste. It is a typical meze (starter), often eaten as a dip with khubz or pita bread, and is sometimes added to other dishes.
3. Baklava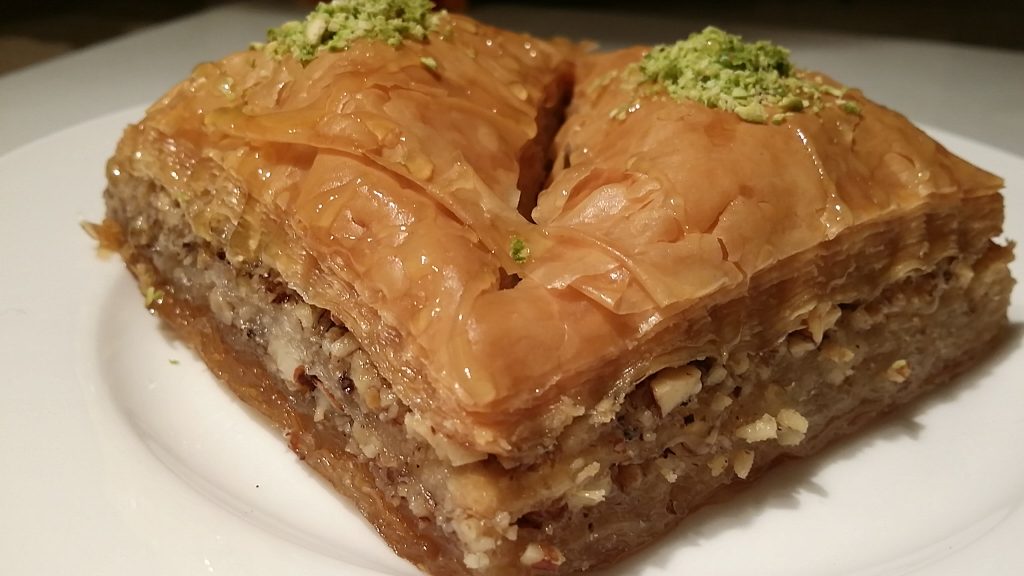 Baklava is a rich, sweet dessert pastry made of layers of filo filled with chopped nuts and sweetened and held together with syrup or honey. It is characteristic of the cuisines of the Levant, the Caucasus, Balkans, Maghreb, and of Central and West Asia.
Baklava is normally prepared in large pans. Many layers of filo dough, separated with melted butter and vegetable oil, are laid in the pan. A layer of chopped nuts—typically walnuts or pistachios, but hazelnuts are also sometimes used—is placed on top, then more layers of filo. Most recipes have multiple layers of filo and nuts, though some have only top and bottom pastry. Before baking (180 °C, 356 °F, 30 minutes), the dough is cut into regular pieces, often parallelograms (lozenge-shaped), triangles, diamonds or rectangles. After baking, a syrup, which may include honey, rosewater, or orange flower water is poured over the cooked baklava and allowed to soak in. Baklava is usually served at room temperature, often garnished with ground nuts.
4. Balila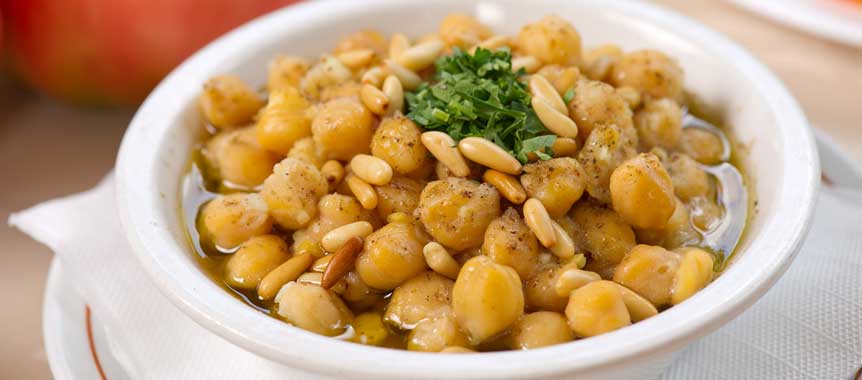 Balila is a Lebanese dish consisting of chickpeas that have been boiled along with lemon juice, garlic, and various spices. It is served as a hot mezze dish. The name is also used for a different Egyptian dish made of wheat, milk, nuts, and raisins.
5. Batata harra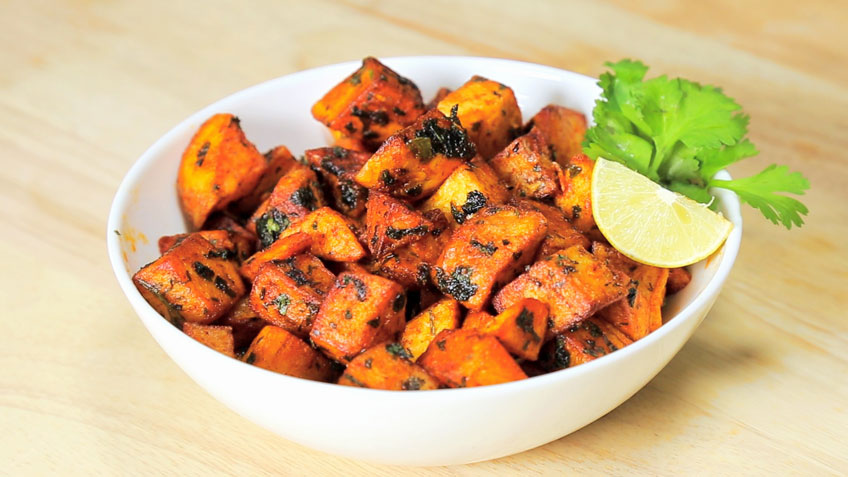 Batata harra is a Lebanese vegetable dish. It consists of potatoes, red peppers, coriander, chili, and garlic which are all fried together in olive oil.
6. Fattoush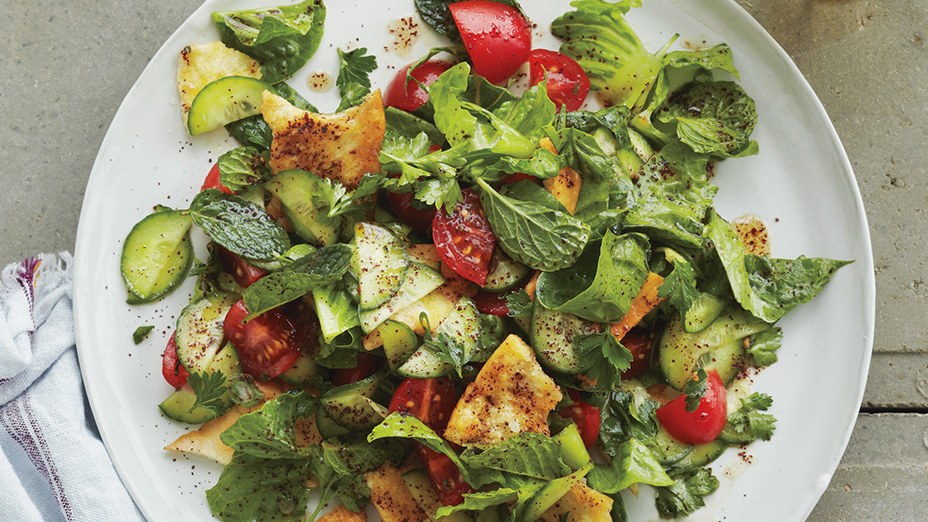 F Fattoush (also fattush, fatush, fattoosh, and fattouche) is a Levantine bread salad made from toasted or fried pieces of Arabic flat bread combined with mixed greens and other vegetables, such as radishes and tomatoes. Fattush belongs to the family of dishes known as fattat (plural of fatteh), which use stale flatbread as a base. Fattoush includes vegetables and herbs according to season and taste. The vegetables are cut into relatively large pieces compared to tabbouleh which requires ingredients to be finely chopped. Tanner's sumac is usually used to give fattoush its sour taste.
7. Falafel
Falafel or felafel is a deep-fried ball, doughnut or patty made from ground chickpeas, fava beans, or both. Falafel is a traditional Middle Eastern food that most likely originated in Egypt. It is commonly served in a pita, which acts as a pocket, or wrapped in a flatbread known as taboon; "falafel" also frequently refers to a wrapped sandwich that is prepared in this way. The falafel balls are laid over a bed of salads, pickled vegetables, hot sauce, and drizzled with tahini-based sauces. Falafel balls may also be eaten alone as a snack or served as part of a meze (assortment of appetizers). Falafel is a common food eaten in the Middle East. The fritters are now found around the world as a replacement for meat and a form of street food.
8. Fatayer
Fatayer is a Middle Eastern meat pie that can alternatively be stuffed with spinach (sabanekh), or cheese (jibnah) such as Feta or Akkawi. It is part of Arab cuisine and is eaten in Iraq, Syria, Egypt, Lebanon, Jordan, Palestine, and other Arab countries in the region.
9. Ful medames
Ful medames or simply fūl, is a dish of cooked fava beans served with vegetable oil, cumin, and optionally with chopped parsley, garlic, onion, lemon juice, chili pepper and other vegetable, herb and spice ingredients.
10. Halva
Halva (halawa, alva, haleweh, halava, helava, helva, halwa, halua, aluva, chalva, chałwa) is any of various dense, sweet confections with roots in the oriental-arabic areas. In global, popular usage it means "desserts" or "sweet", and describes two types of desserts:
Flour-based
This type of halva is slightly gelatinous and made from grain flour, typically semolina (suji- India). The primary ingredients are clarified butter (ghee), flour, and sugar.
Nut butter-based
This type of halva is crumbly and usually made from tahini (sesame paste) or other nut butters, such as sunflower seed butter. The primary ingredients are nut butter and sugar.
Halva may also be based on various other ingredients, including beans, lentils, and vegetables such as carrots, pumpkins, yams and squashes. Halva can be kept at room temperature with little risk of spoilage. However, during hot summer months, it is better kept refrigerated, as it can turn runny after several days. Most types of halva are relatively dense confections sweetened with sugar or honey. Their textures, however, vary. For example, semolina-based halva is gelatinous and translucent, while sesame-based halva is drier and more crumbly.
10. Hummus
Hummus is a Levantine dip or spread made from cooked, mashed chickpeas or other beans, blended with tahini, olive oil, lemon juice, salt and garlic. It is popular in the Middle East and Mediterranean, as well as in Middle Eastern cuisine around the globe.
11. Kanafeh
Kanafeh (Kunafi) is a traditional Arabic dessert made with thin shredded or noodle-like pastry made of vermicelli or semolina dough, soaked in sweet, sugar-based syrup, and typically layered with cheese, or with other ingredients such as clotted cream or nuts, depending on the region.
12. Kibbeh
Kibbeh is a Levantine dish made of bulgur, minced onions, and finely ground lean beef, lamb, goat, or camel meat with Middle Eastern spices (cinnamon, nutmeg, clove, allspice). Other types of kibbeh may be shaped into balls or patties, and baked, cooked in broth, or served raw. Kibbeh is considered to be the national dish of many Middle Eastern countries.
13. Kibbeh nayyeh
Kibbeh nayyeh – raw kibbeh: finely minced meat mixed with bulgur (cracked wheat) and eaten like steak tartare.
14. Kafta
Kofta (Kafta) is a family of meatball or meatloaf dishes found in South Asian, Middle Eastern, Balkan, and Central Asian cuisines. In the simplest form, koftas consist of balls of minced or ground meat—usually beef, chicken, lamb, or pork—mixed with spices and/or onions
15. Kousa Mahshi
Kousa Mahshi – zucchini (many varieties are used) stuffed with meat and rice.
16. Kubideh
Kabab koobideh (kubideh) is an Iranian meat kabab made from ground lamb or beef, and less commonly chicken, often mixed with parsley and chopped onions. Kabab koobideh is grilled on skewers, traditionally over hot coal, and is served with rice pilaf with oil, salt and saffron), accompanied by grilled tomatoes and onions. Sumac is usually served as a tableside garnishing spice.
17. Ma'amoul
Ma'amoul is an ancient Arab dessert filled pastry or cookie made with dates, pistachios or nuts such as walnuts (occasionally almonds), figs. They may be in the shape of balls, domed or flattened cookies. They can either be decorated by hand or be made in special wooden moulds. Ma'amoul with date fillings are often known as menenas, and are sometimes made in the form of date rolls rather than balls or cookies. Maamoul is usually made a few days before Eid, then stored to be served with Arabic coffee and chocolate to the guests who come during the holiday.
18. Makdous
Makdous is a dish of oil-cured eggplants. They are tiny, tangy eggplants stuffed with walnuts, red pepper, garlic, olive oil and salt. Sometimes chilli powder is added.
19. Manaeesh
Manakish, also manaqish, manaeesh or manakeesh, is a popular Levantine food consisting of dough topped with thyme, cheese, or ground meat. Similar to a pizza, it can be sliced or folded, and it can be served either for breakfast or lunch. The word manaqish is the plural of the Arabic word manqūshah (from the root verb naqasha 'to sculpt, carve out'), meaning that after the dough has been rolled flat, it is pressed by the fingertips to create little dips for the topping to lie in. Traditionally, women would bake dough in a communal oven in the morning, to provide their family with their daily bread needs, and would prepare smaller portions of dough with different toppings for breakfast at this time.
20. Mujaddara
Mujaddara consists of cooked lentils together with groats, generally rice, and garnished with sautéed onions.
21. Mulukhiyah
A stew with made with leaves of the Nalta/Tossa Jute plant, chicken, beef, and garnished with raw chopped onions soaked in vinegar, served over rice. Sometimes, toasted pita chips are placed under the rice.
22. Mutabbel
Mutabbel is a mix of slow cooked eggplant and tahini.
24. Pastirma
Pastırma or basturma is a highly seasoned, air-dried cured beef that is part of the cuisines of countries from the Balkans to the Levant.
25. Qatayef
Qatayef or Katayef is a Levantine dessert commonly served during the month of Ramadan, a sort of sweet dumpling filled with cream or nuts.
26. Shanklish
Shanklish, also known as shinklish, shankleesh, sorke, or sürke, is a type of cow's milk or sheep milk cheese in Levantine cuisine. It is typically formed into balls of approximately 6 cm diameter, which are often covered in za'atar and Aleppo pepper, and then aged and dried. The most common spice is thyme, thus giving the cheese its appearance somewhat resembling a dirty tennis ball. Shanklish is also sold in much smaller balls or unformed.
27. Shawarma
Shawarma , also spelled shawurma or shawerma, is a Levantine meat preparation, where thin cuts of lamb, chicken, turkey, beef, veal, or mixed meats are stacked in a cone-like shape on a vertical rotisserie. As it rotates and the outside cooks continuously, thin slices are shaved off. Shawarma is one of the world's most popular street foods, especially in the countries of the Levant and the Arabian Peninsula.
28. Shish taouk
Shish taouk is a traditional marinated chicken shish kebab of Middle Eastern cuisine. The dish consists of cubes of chicken that are marinated, then skewered and grilled. Common marinades are based upon yogurt and lemon juice or tomato puree, though there are other variations.
29. Tabbouleh
Tabbouleh is a Levantine vegetarian salad made of mostly finely chopped parsley with tomatoes, mint, onion, bulgur (cracked wheat), and seasoned with olive oil, lemon juice, salt and pepper. Some variations add garlic or lettuce, or use couscous instead of bulgur. Tabbouleh is traditionally served as part of a mezze in the Arab world. Its popularity has grown in Western cultures.
30. Tahini
Tahini is a condiment made from toasted ground hulled sesame. Tahini is served as a dip on its own or as a major component of hummus, baba ghanoush, and halva.
31. Toum
Toum or Toumya is a garlic sauce common to the Levant. Similar to the Provençal aioli, it contains garlic, salt, olive oil or vegetable oil, and lemon juice, traditionally crushed together using a wooden
mortar and pestle
. There is also a variation popular in many places, such as the town of Zgharta, in Lebanon, where mint is added; it is called "zeit wa toum" (oil and garlic).Toum is used as a dip, especially with French fries and chicken, and in Levantine sandwiches, especially those containing chicken.
32. Wara' Enab
Wara' Enab – grape leaves stuffed normally with meat and rice or made lenten style with just rice with lemon sauce.
33. Za'atar
Za'atar is a generic name for a family of related Middle Eastern herbs from the genera Origanum (oregano), Calamintha (basil thyme), Thymus (typically Thymus vulgaris, i.e., thyme), and Satureja (savory). It is also the name for a condiment made from dried hyssop leaves, mixed with sesame seeds, dried sumac, and often salt, as well as other spices. Used in Levantine cuisine, both the herb and spice mixture are popular throughout the Middle East.
34. Basbousa
Basbousa is a traditional Middle Eastern sweet cake. It is made from cooked semolina or farina soaked in simple syru. Coconut is also a popular option to add into this pastry. Orange flower water or rose water is also an optional addition to the simple syrup used in the basbousa.
Read more about lebanese food.