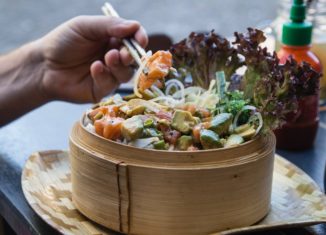 Near the end of 2018, Whole Foods came out with a list of food trend predictions for 2019, and marine snacks were on the list. When it comes to marine snacks, most of us think of dried seaweed, but there are plenty of other marine munchies to indulge in, including kelp noodles, puffed water lily seeds and seaweed butter. If you're into trying new foods, you should discover these unique snacks. They are nutritious, delicious and right on-trend in North America.

What are kelp noodles, anyway?

These noodles are a fun change from typical pasta. They are usually created from a trio of ingredients, which are water, sodium alginate and kelp. Sodium alginate is derived from brown seaweed, and it's utilized to enhance texture. Kelp is a brown seaweed that is totally safe to eat. Kelp noodles have a translucent appearance, and they are free of wheat and gluten. Key player in the hospitality industry, Ryan Hibbert, asserts that they are also low in carbs and calories, making them appeal to a wider demographic. Some people toss kelp noodles with aioli and a little salt, and then sprinkle the noodles with toasted sesame seeds.

Puffed water lily seeds are a tasty novelty

Puffed water lily seeds are also known as Makhana, and they are a traditional Indian snack that many North Americans are now discovering for the first time. Puffed water lily seeds are derived from water lily plants. These plants shed seeds once each year. The seeds, or kernels, become blueberry-sized when they are puffed up. If you love popcorn, or enjoy puffed barley, you should give puffed water lily seeds a try. They are crunchy, low-calorie snacks, which have 3 grams of protein per serving.

Seaweed butter adds savory flair to recipes

The easiest way to enjoy trendy seaweed butter is to slather it on a piece of bread, but it's also a good ingredient to add to a pan before cooking up fish fillets or scallops. Seaweed butter is softened butter that contains crumbled, dried seaweed, such as Dulse. The seaweed is folded into the butter and gives it a savory kick that is salty and a bit like bacon. It's very easy to make seaweed butter, as most grocery stores do offer Dulse to consumers. To experiment with seaweed butter, consider tossing pasta with it, or roasting veggies that have been lightly brushed with it.

The hottest marine snacks offer trendy flavor that is offbeat and hard to resist. When you try marine snacks, you'll stretch your palate and expand your culinary horizons. These snacks are becoming popular choices in North America because they really deliver on taste and nutrition.