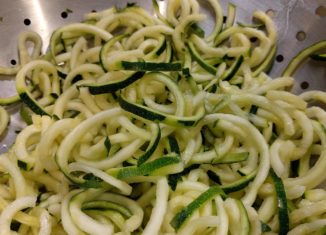 10 Paleo Dishes To Diversify Your Ration
A Paleo diet is what your ancient grandparents ate when rice and business lunches were thousands of years away. Exactly, that was long ago, but why would people stick to the outdated menu today?
This Menu Will Make You Eat Your Fingertips
Well, according to Paleo dietitians, your genome is pretty vintage, too. The farming boom hit people's guts and obviously stressed the digestive system. Today, some eaters experience light flatulence, others suffer from more serious "civilization diseases": heart attacks, hormonal disbalance, diabetes, tumors, or obesity.
Interesting fact! The meals of two Paleo families are never the same. They depend on personal needs in minerals and vitamins, on diseases and preferences. For example, the strict edition doesn't allow any salt, but those who argue the importance of its minerals can switch to the milder version with some kinds of salt allowed.
The Paleo family can easily invite its non-Paleo friends and relatives to share the dinner table. What we do is just rearrange the product compatibility and substitute troublesome ingredients for their healthy analogs.
This article features energizing main dishes and snacks shared by professional diet-friendly cooks. Keep reading to the end for two natural chocolate bonuses!
Modernized Recipe Book of Your Paleo Grannies<
The Softest Chicken Cauliflower Salad
Thanking Louise Hendon for this marvelous lunch. She has long been the author of popular dietary books and tutor of Keto and Paleo education events. Her salad family did enjoy this cabbage and herbal mix encrusted with the olive oil. Together with fried chicken chunks, one full serving will give you powers for all day until the evening.
Grind cauliflower florets look just like rice but are significantly lower in calories and carbs. Add crunchy fresh onions, pepper, and hydrating cucumbers in one bowl, and the healthy meal is ready to serve! If you want turkey or other vegetables that are not on the list, feel free to modify this universal recipe.
Baked Chicken on the Carpet of Veggies
For over 15 years nutritionist Jessica Beacom has been aiding people to normalize their digestive tract. Together with the Real Food Dietitians trio, she shares beautiful recipes for everyone who cares about the quality of their life.
Paleo-friendly sweet potatoes cut in dice and mixed with colorful stems of soft carrot, red onion, and phytates-extra-low green beans. All are sprayed with avocado oil and accomplished with islands of chicken thighs. This visual fiesta will bang a row of fireworks in your mouth. Hurry up to check your refrigerator!
White Chicken Soup
Yet one more Jessica's liquid recipe. For your well-being and happy mood in the cold season, a spoon of hot soup is imperative. A cold soup will also fit if you're melting from the heat.
Nothing special—just bits of meat, temperamental onion, pepper, a vegetarian milk substitute, and spices, spices, spices! Dry herbs (or fresh, when it's the right season) in the broth will disperse spring in the air. Together with the warming jalapeno, they will give your house a stronger feeling of home. When your stomach misses liquid soups, this recipe is a must-have doctor.
Neat Salmon Patties on Skillet
For all her life, Lindsay Cotter analyzed the effect of different foods on human well-being. She learned much about nutritious dishes cooking for her triathlon husband and learned the side effects of each product while curing her own body. Lindsay is a professional in product compatibility, and she's happy to share her knowledge with the wide public.
The plate of salmon cutlets is one of her favorites for Thanksgiving. This red fish is full of Vitamin D and Omegas, plus grain-free and mood-fixing as a bonus. The recipe is simple: add vegetables, spices, and eggs to the thoroughly mashed salmon. Form fish balls and fry them for a few minutes standing near the stove. Then devour them with the side dish of fresh celery, broccoli, or asparagus, and give your family a tasty bite! Salmon is a little magical secret that will convert everyone who tries it into the Paleo diet.
King-size Veg and Meat Bowl
Mia Zarlengo, a registered Chicago dietitian, began her way by discovering the power of food from her own experience. The tasty menu she has been heartily compiling for all her life is now decorating the table of many houses around the world. Her goal is to touch the largest audience possible, calling people to achieve the balance of mind and body through what they eat.
The charm of salads is in their versatility: you're allowed to put in any veggie, spices, animal or fish meat, and it will taste brilliant together! The big colorful bowl with green cabbage strips, grated carrots, tweaking green onions, and a turkey, all sauced up with liquid coconut aminos, avocado and sesame oils. Notice how the salad takes its autumn-spirited harvest look, dyed by the orange carrot. It's as nourishing as sparkling with colors! Can you already taste the energy of the thirty-minute lunch?
Jalapeno Chicken Tacos
The Paleo and Whole30 supporter Alex has found her talent in cooking at a young age. She learns to keep her husband and their two kids healthy, and she never misses an opportunity to crown the food she makes with a flavor of tradition.
Today's style is Mexican. Alex showcases us Paleo tacos, a completely impossible fusion at first thought. But yes, the best thing about tacos is each ingredient can be modified, and no one will say a word to you. So, bring in the gluten and grain-free tortillas and stuff them with oregano, organic tomato paste, chicken breast, chipotle, and sprouts of crispy juicy greenery. This lunch is vitamin-full and diverse in products (let alone the unique national vibe); at the same time, the preparation doesn't take longer than 30 minutes.
Beneficial Sweety Parsnip Fries
Food, fitness, faith—the three axes which ground Taylor Kiser's life and which she's eager to teach us about. Her chef talent can satisfy every dietary taste, Paleo in particular.
For your attention, here's what you didn't expect to see: 100% healthy french fries without a trace of potatoes! It takes only a big parsnip and a sac of spices! Plus the secret fairy powder that makes your fries extra crispy. Baked in the oven, they need less olive oil than usual ones fried in deep fat or on a pan. The most unusual appetizer with the natural airy sweetness of the parsnip.
Cauliflower Rice in Bacon Sauce
This accidental recipe became the most adored by Taylor's family. She came up with it when talking with the serviceman about their favorite dishes. Closer to the point, it's a popular chicken fried rice. But instead of rice, you mince our well-known low-calorie cauliflower; and instead of chicken, you balance the plate with bacon, which covers watery greenery with its own fats.
It doesn't take much time and includes familiar ingredients. For the outcome, you'll get a bowl full to the brim with the tasty Asian-style meal. Fresh vegetables dilute bacon fats, and rich eggs make your spoon extra nurturing. This amazing harmonious modification hits differently and even better than the original.
Zero-sugar Brownies
Finally, desserts! Delicious brownies from Claire Cary, the dairy- and gluten-free beautiful chef. As you've already guessed, they have no milky butter, gluten, or sugar in their recipe. The only sugar comes from the extra dark chocolate and the unprocessed maple syrup. The cakes are so cakey you can give them to your non-Paleo friends and see whether they spot the trick!
The brownies are not fudgy nor dry—just the soft golden cut. Of course, you must consider different nuances when baking middle-difficulty desserts, but you'll understand you have made the right choice when you bite it!
Freezed Chocolate Balls with Cherry
The third Jessica's recipe here! Something so tiny but so brilliant. All you need for simple non-sugar berry bites are a food processor and refrigerator. No baking, no half the day wasted near the stove.
You can take these quick snacks along to work and crunch them at home while watching your favorite evening series. Plus, it's a nice source of vitamins for kids! Just grind all ingredients, add some water, and form petty balls ready to freeze.
So Many Options for Paleo!

When you're on a diet, that doesn't mean you shouldn't eat at all. And Paleo proves the point: you won't refuse what you have loved, you will just include changes to fit your new, healthier lifestyle. Food influences your body systems, thus your mind and mood. Write down more recipes, or get ones from www.buyessayfriend.com, or from the delicious Paleo community—there are options for foodies, fans of big nutritious meals, busy workers, and sweet tooths.