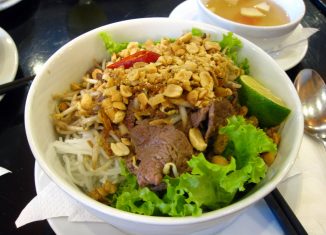 In Southeast Asia, you'll find the lovely country of Vietnam. A friendly and inviting culture will make you happy you came, plus there are miles beaches, glistening rivers, Buddhist pagodas and historical monuments, and bustling cities to wander through.
By far though, the thing that will make you never want to leave this place is the food. Vietnamese cuisine is superbly simple. You'll find some of the best dishes on the roadside as well as in sit-down restaurants, but it's these simple flavors that will renew your love of Asian cuisine on a whole new level.
When you're visiting Vietnam, be sure to try out these dishes to fully taste the country's best offerings.
1. Pho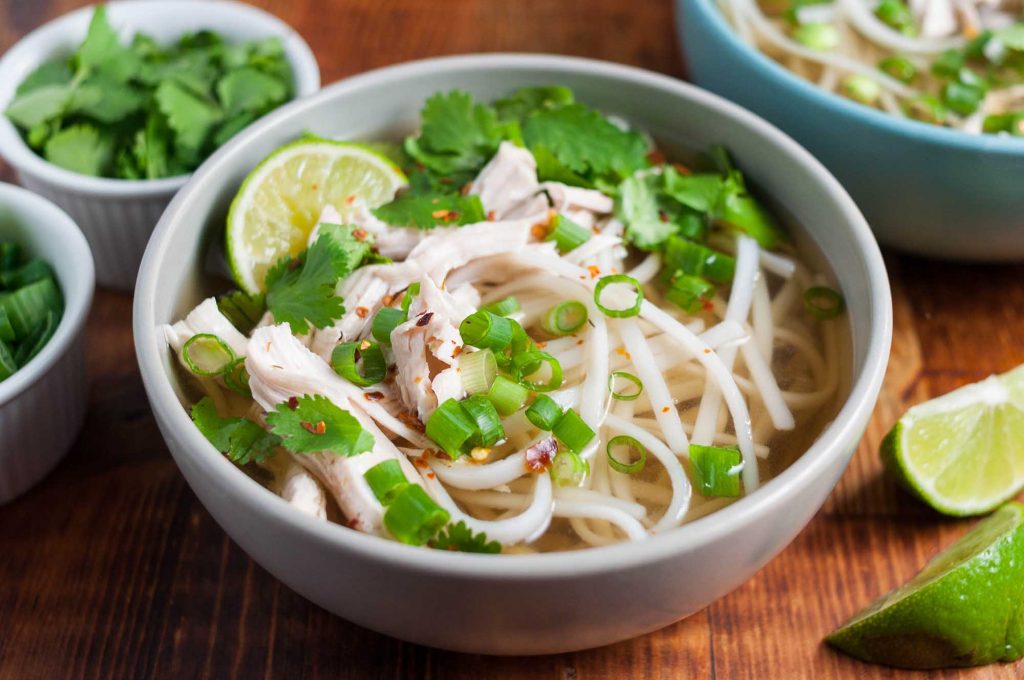 Whether you've never had Vietnamese cuisine before, you've likely heard of pho. It's the Vietnamese dish most known around the world. You'll find it in every city in Vietnam. Pho is a bowl of salty broth with a heaping pile of fresh rice noodles. It's topped with herbs and usually has chicken or beef. It's considered a Vietnamese staple, something the people here eat daily. One taste and it's easy to see why. It also happens to be incredibly cheap. All that flavor for a great price and you'll be slurping it up every day on your visit. Plus, it's available any time of day so you can feed your craving whenever. For the best places to try pho, simply watch where the locals are swarming and order it there.
2. Banh xeo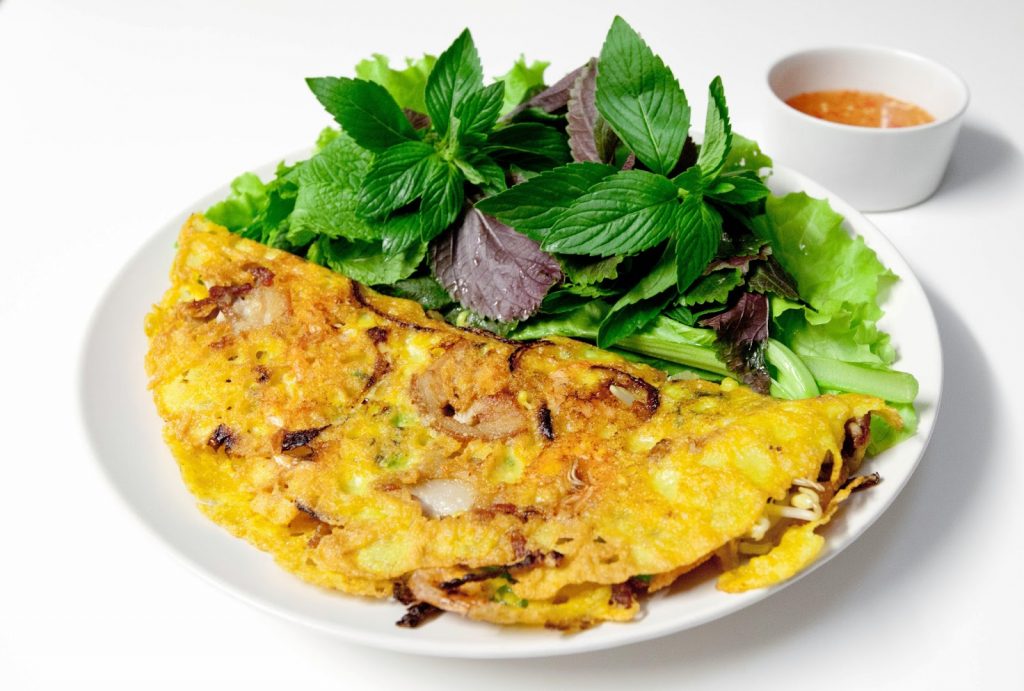 Think of it as a crepe with a crisp. It's stuffed with shrimp, pork and bean sprouts. It's garnished with fresh local herbs. The best way to enjoy it is to cut it into slices and then roll it up with lettuce leaves or rice paper. It's always served with a sauce, so be sure to dunk it in and marvel at the taste sensation!
3. Goi cuon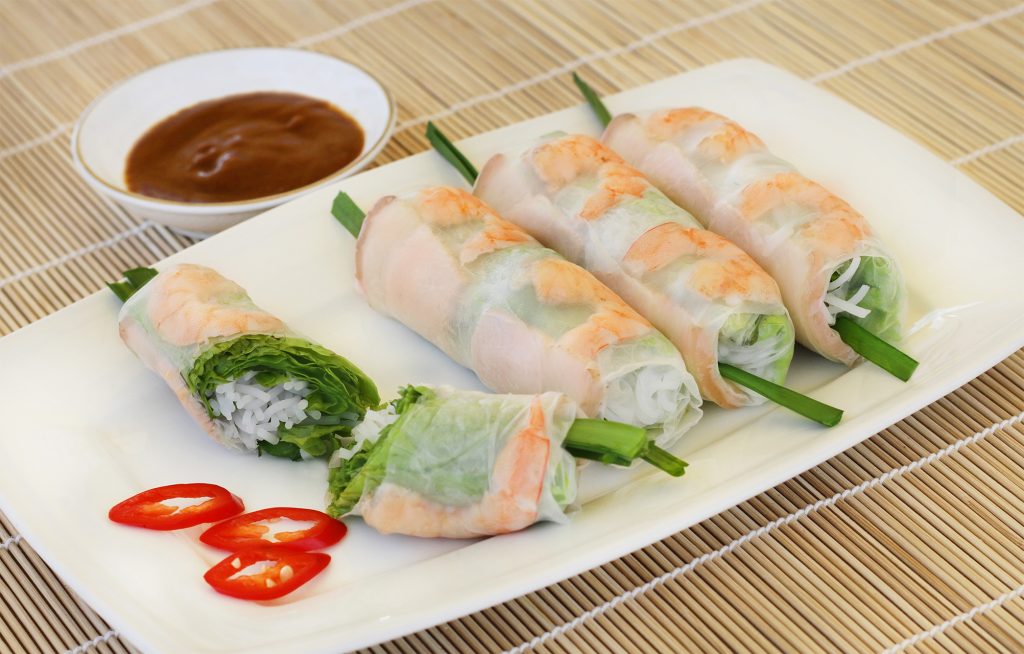 Looking for something that isn't fried? Then you'll love these. They're light and healthy and full of nutritional goodness that just happens to taste great! It's salad greens sandwiches around thin slice of meat or sometimes seafood along with coriander, all wrapped up in a translucent rice paper. You'll find it served with a side of fish sauce, perfect for dunking and completing the flavor.
4. Ga tan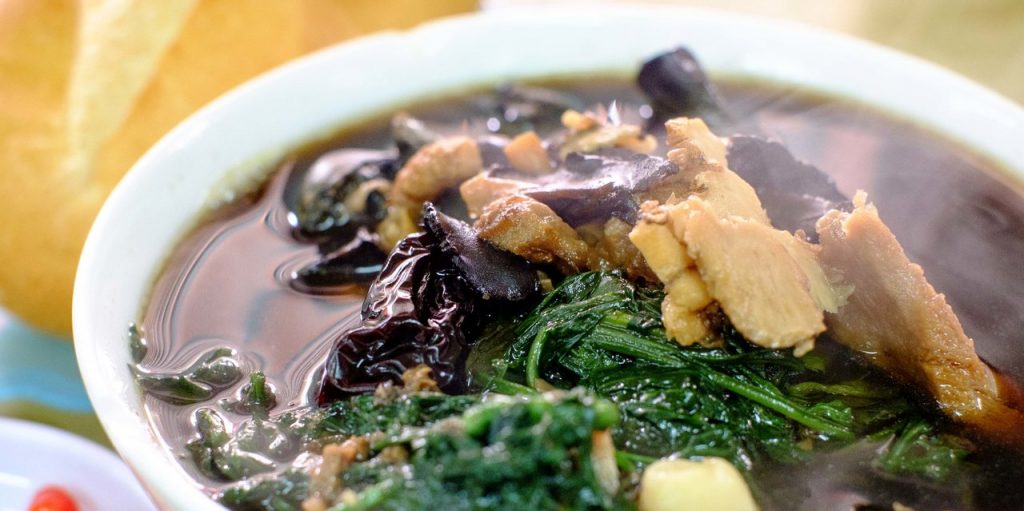 Should you find that you're hungover or under the weather during your stay in Vietnam, try this heavenly healing broth. It's the Vietnamese version of your mom's chicken soup. Robust with chicken chunks and a broth full of green herbs, it will cure whatever ails you.
5. Banh khot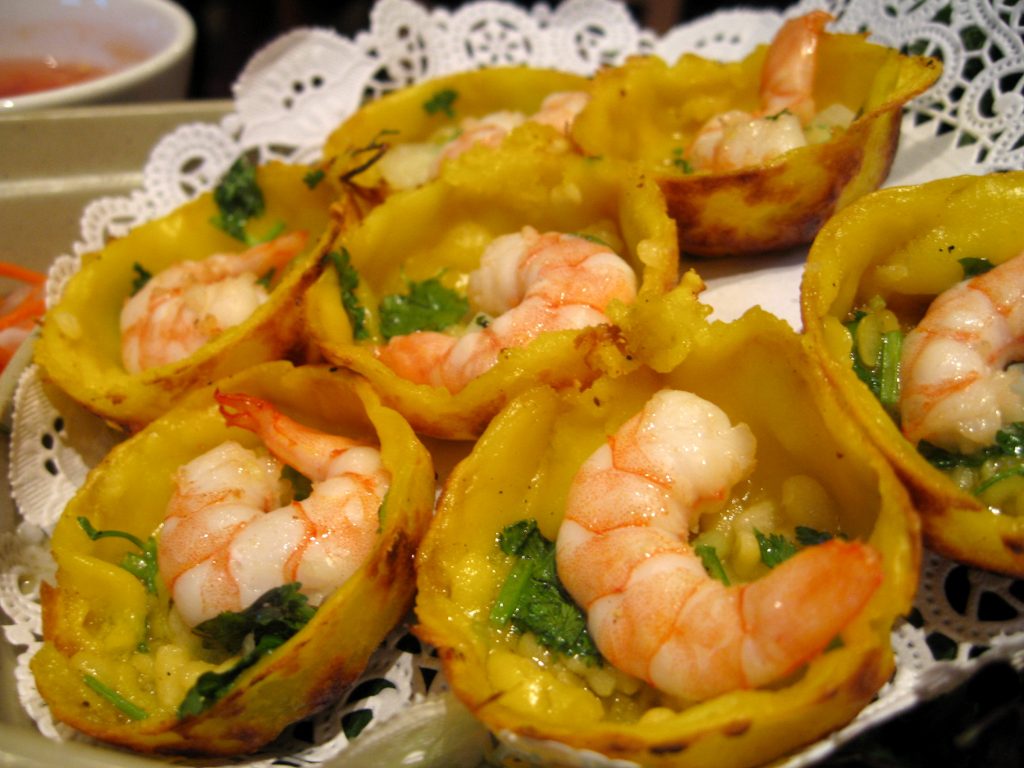 In love with those Vietnamese pancakes already? Then try banh khot. It's a miniaturized version fashioned from the same items you'll find in regular Vietnamese pancakes. In one bite, you can gobble up one of these. Try not to eat 10 of them…we dare you! The outside layer is rendered crunchy thanks to coconut milk while the inside stays moist and flavorful with shrimp, green onions, and mung beans. Garnished with dried shrimp flakes, it's a delight you'll miss once you return home from your trip.
6. Bun bo nam bo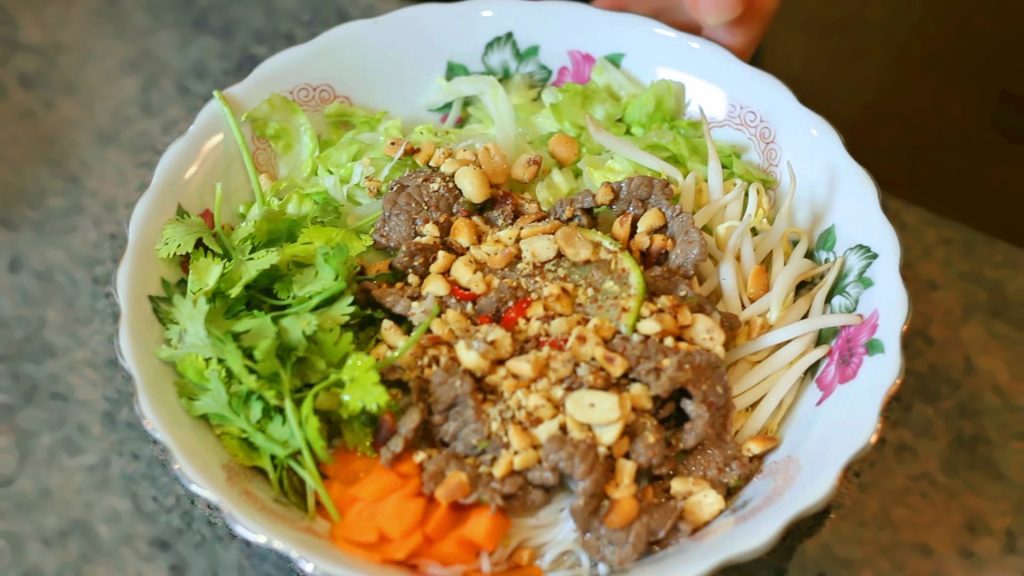 In need of a noodles? Try this textural sensation of a noodle dish. It's topped with slices of tender beef, bean sprouts, and crunchy peanuts. Crispy dried shallots and a bounty of fresh herbs top it off, along with the ever-popular Vietnamese favorite condiment, fish sauce. Spicy hot chili pepper completes the presentation for a simple yet intensely complex-tasting noodle dish.
7. Nom hoa chuoi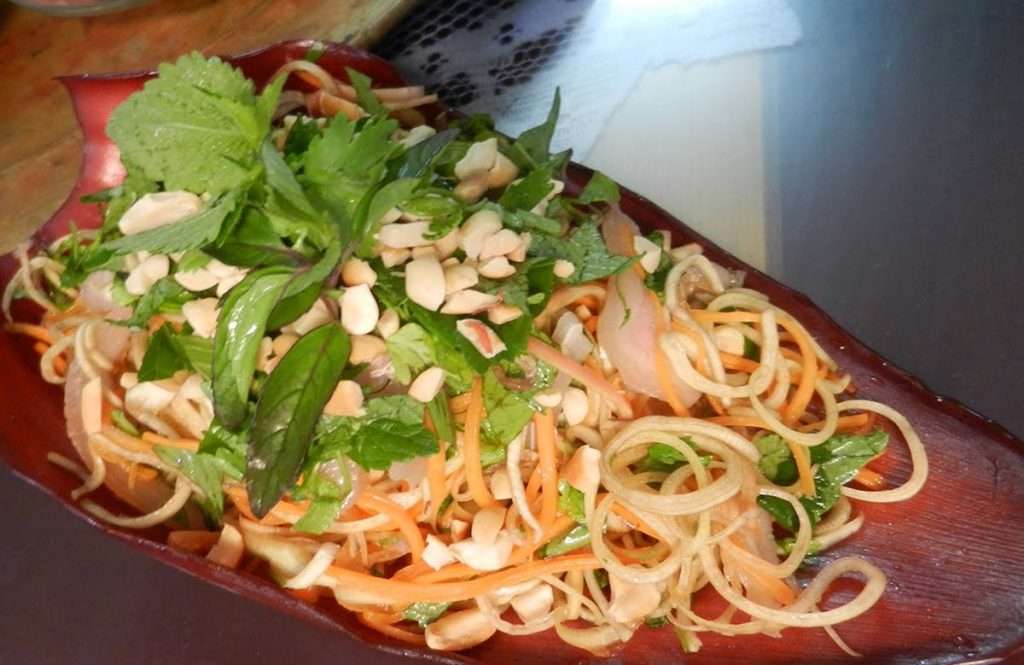 It's always good to eat a salad. Only this salad goes way beyond the basic one you begrudgingly pack up to take to your office and eat at your desk. This salad is made with banana flowers. If you didn't know banana trees had flowers, now you do. The next time you see a banana tree, look for thick lumpy purple things. Those things turn into bananas eventually. But for this salad, you'll find them peeled and then sliced thinly. They are mixed with carrots, green papaya, cilantro, and chicken. Oh yes, and don't forget the fish sauce and smattering of crunchy peanuts to complete this healthy, tasty salad sensation.
8. Ga nuong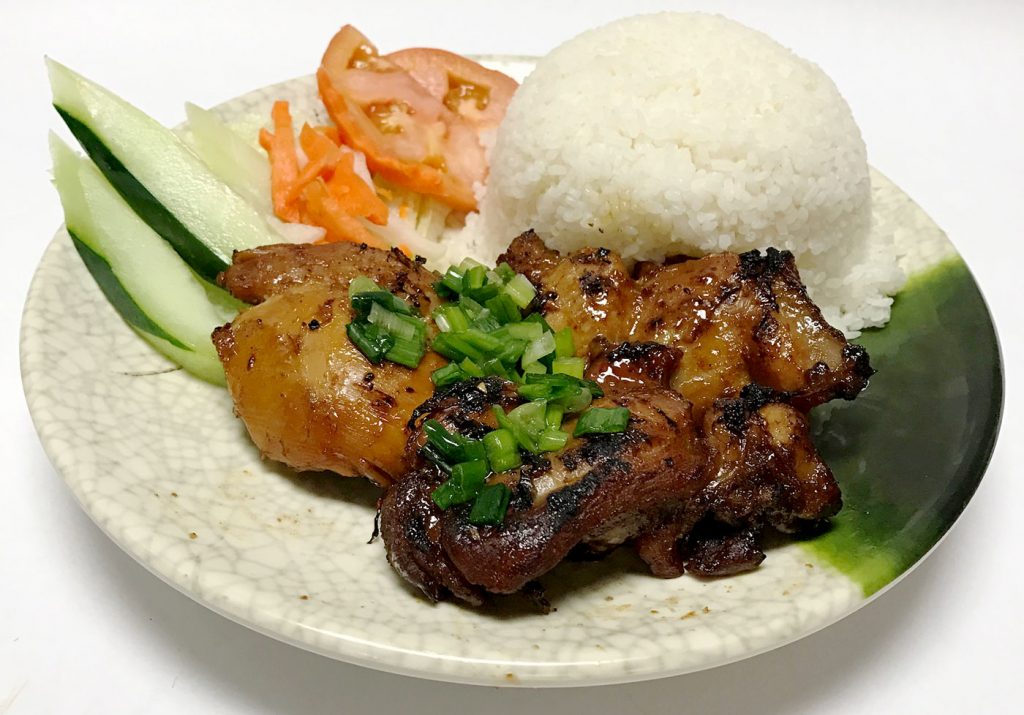 Just like all Asian countries, Vietnam has a fondness for chicken. Travel anywhere in Asia and you will find even more KFC locations than are in your hometown. But the best chicken you'll find is out in the streets where it is marinated in honey and grilled over open flame. The outside is delightfully crispy, but the inside is moist and tender for absolute perfection.
9. Banh cuon
These savory pancakes will quickly become a favorite snack for you when you're out and about, sightseeing around Vietnam. They are pancakes made of rice flour. They're rolled up and served hot. It's best to gobble them up right away to truly enjoy them in their prime. They're soft and filled with bits of mushrooms and minced pork. And now that you've been reading this list of Vietnamese cuisine, you can probably guess that it will be served with fish sauce for dipping. But of course! It's a must and is the ideal way to savor these!
10. Bot chien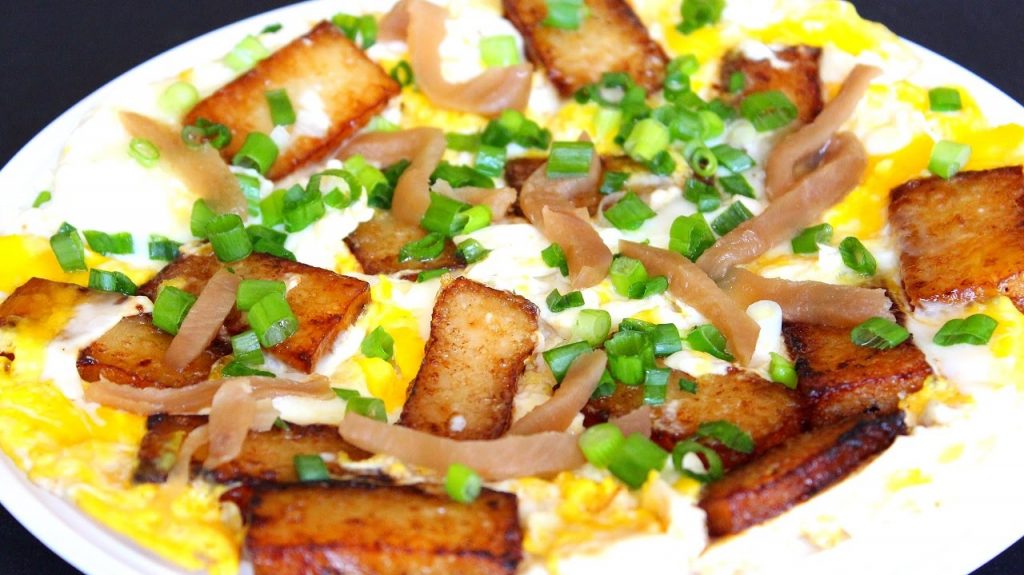 One of the most popular street-side snacks is bot chien. Kids love to grab them after school lets out and the locals will all order these while out enjoying a night of drinking. Trust us on this, because you're going to love this odd-sounding combination of wok-fried chunks of dough with an egg thrown on top for good measure. To top that off, it gets adorned with papaya slices, green onions, and shallots, and then a finishing of rice vinegar and pickled chili sauce.
11. Com suon nuong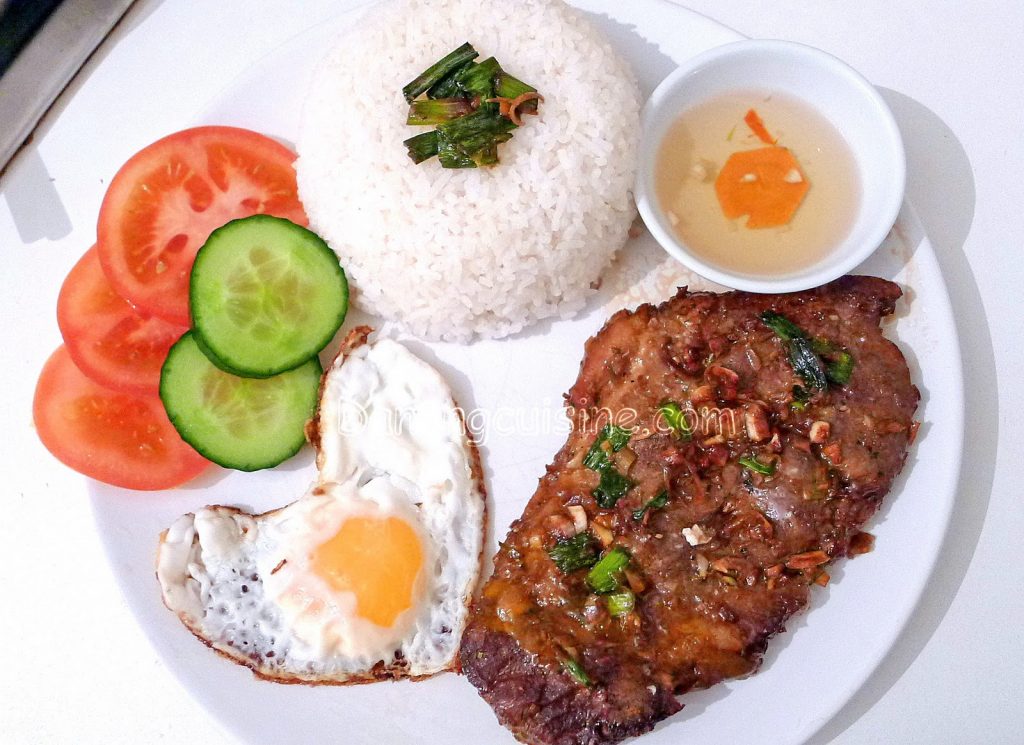 This dish is very similar to the famed bun cha (which we'll get to in just a moment). One of the key differences here is that this dish contains rice instead of noodles. Barbecued pork is grilled over charcoal to impart a smoke-infused flavor. Once it's seared to succulence, it's placed upon a mound of white fractured rice grains.
12. Bo luc lac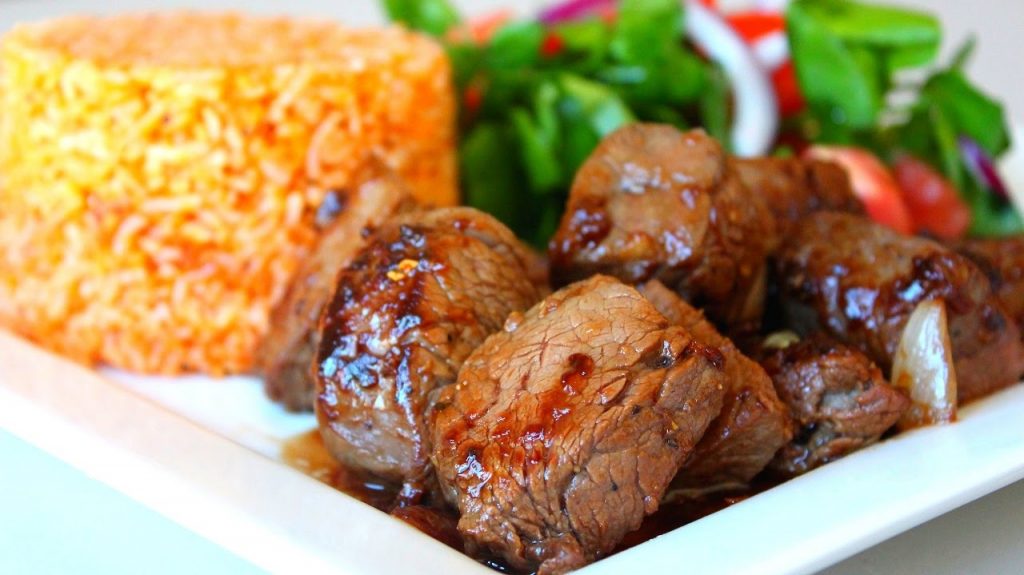 A simple but flavorful beef dish that everyone loves is bo luc lac. Beef is cubed up and then sizzled in a wok along with garlic, vegetables and pepper. The translation means "shaking beef" which it gets from the method of shaking it constantly in the searing hot wok.
13. Banh uot thit nuong
Just like when you grill a steak, pork or chicken in your own backyard, how you marinate your meats is what makes it so delectable. The same is true in Vietnam. Banh uot thit nuong is marinated with fish sauce, sugar, chili, lemongrass, and salt. After bathing in that for a time, pork gets tossed on the grill and then it's decorated with fresh herbs like basil, mint, and cilantro as it's rolled in rice paper rolls for a fresh and delightful way to enjoy grilled pork.
14. Banh mi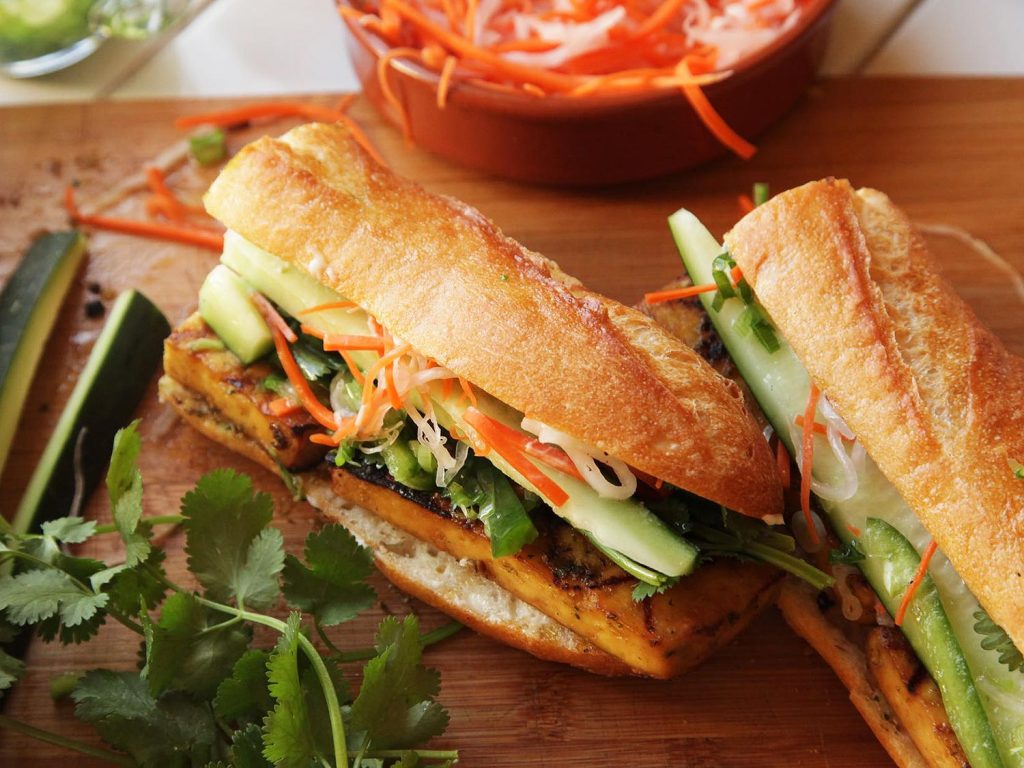 Missing sandwiches during your Asian travels? No problem! Vietnam has the banh mi and there are a royal ton of varieties of them. In the north part of the country, it's very basic but no less delicious with bread, margarine and pâté, however in the south, the banh mi there tend to be more colorful and full of an eclectic assortment of ingredients like pickled vegetables, sausages, cheese, and cold cuts topped with herbs and chili sauce.
15. Bun cha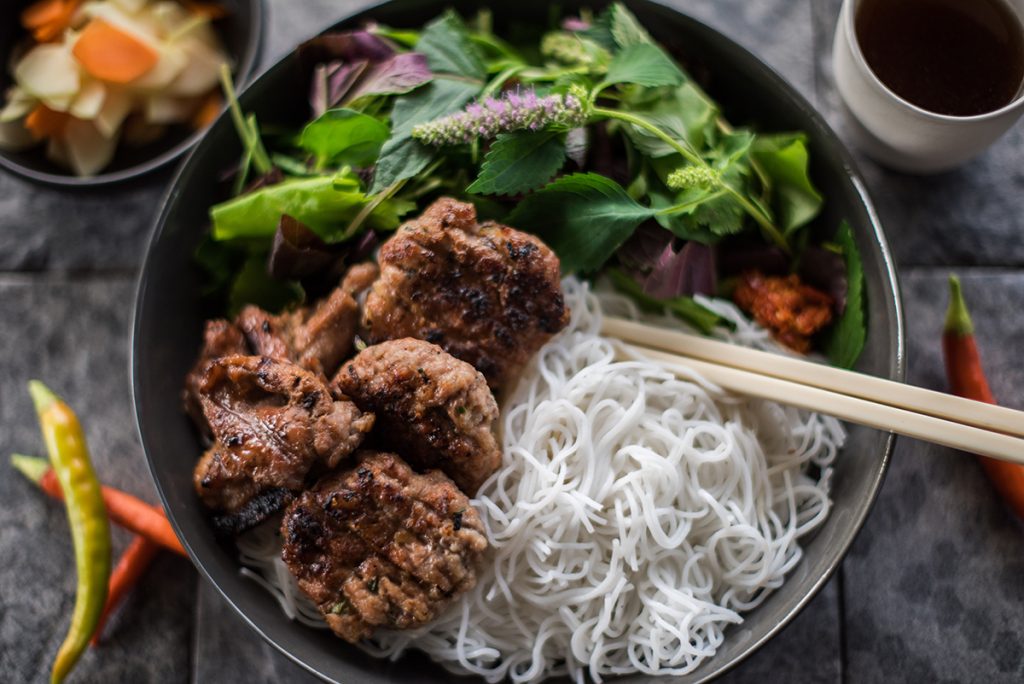 Now let's discuss bun cha. While pho is the most famous, bun cha comes quite close to that fame and among Vietnamese is the most popular lunch dish. You'll find it on the side of every street as lunch time rolls around. The unmistakable scent will likely lead you right to it. Seasoned pork is grilled over charcoal until crispy and charred. Then it's thrown in a bowl with a broth heavily flavored with fish sauce and served with a side of herbs and rice noodles for the quintessential finish.
16. Lau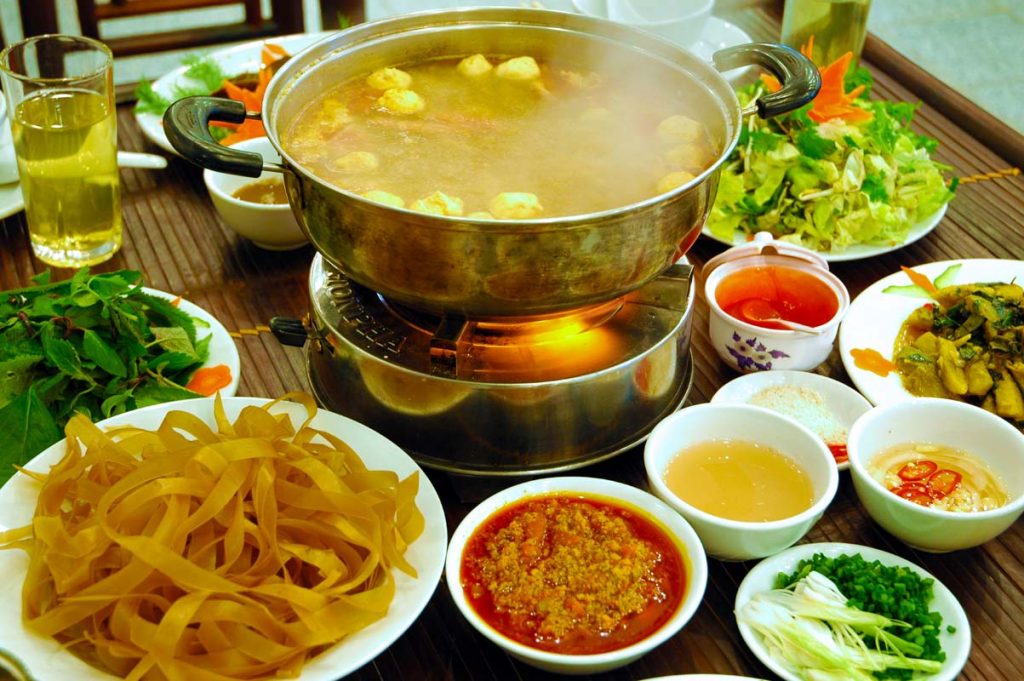 You'll find every Asian country does a hotpot dish. Vietnam is no exception. Eating lau is the hotpot experience of this country, where you enjoy the food as much as those sharing out of your boiling cauldron with you. Choose your protein and enjoy from meat to poultry to tofu to seafood.
17. Bo bit tet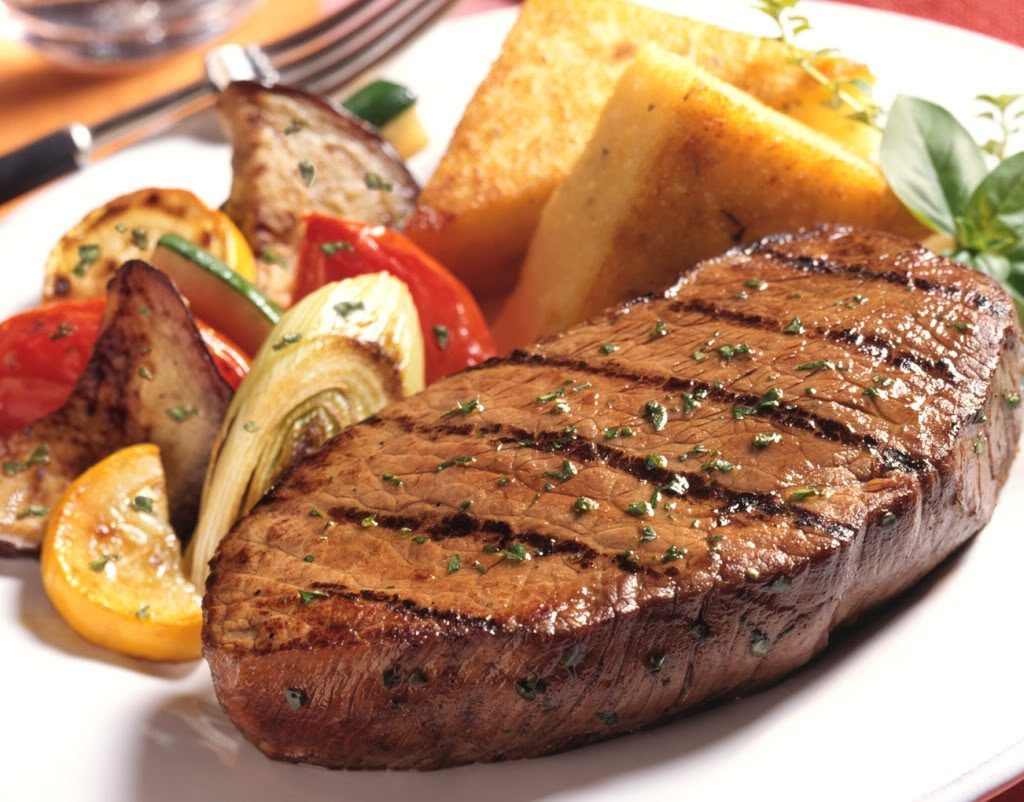 If you miss bar food while you're in Vietnam, just order bo bit tet. It's a thin flank steak served up sizzling on a cast iron plate along with eggs, Vietnamese meatballs, and thick wedges of potatoes.
18. My xao bo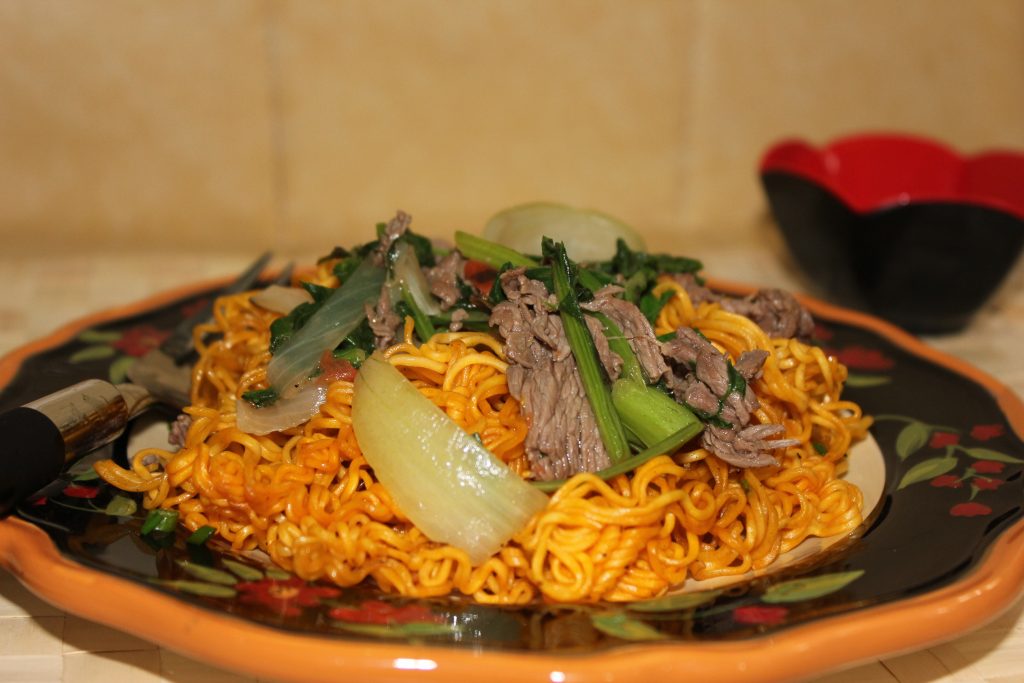 This dish takes instant noodles to a whole new level! Noodles are tossed together with oil, beef, garlic, onions, tomatoes, and morning glory. It's simple, savory, and sublime!
19. Dau phu sot ca chua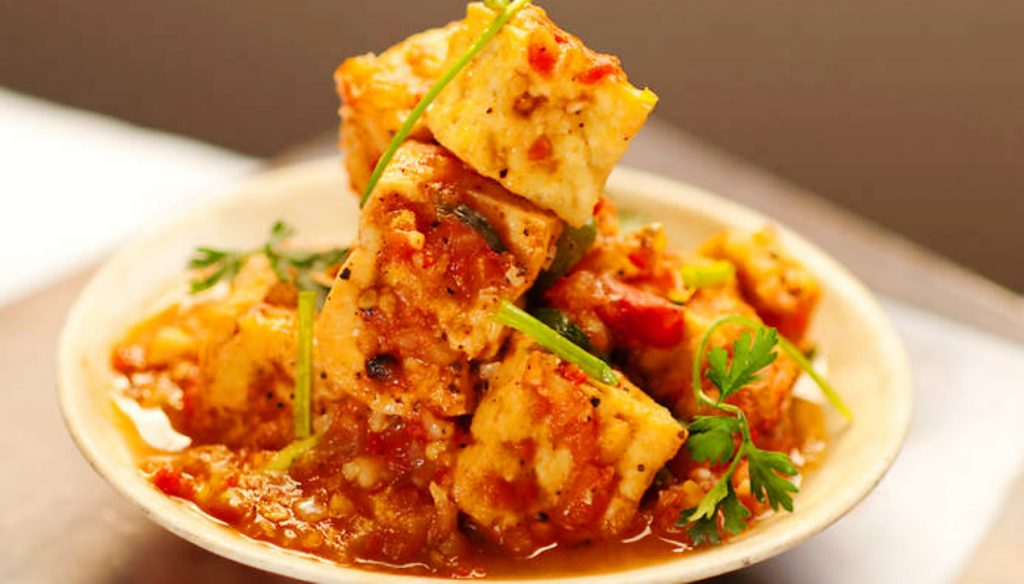 With a name like dau phu sot ca chua, you'd think it was something very complex, but it's quite simply tofu in tomato sauce. Don't let the humbleness of the translation put you off though. The tofu is fried deep and then drenched with tomatoes and spring onions. Fresh green herbs top it all off for an intensely taste-filled dish.
20. Banh goi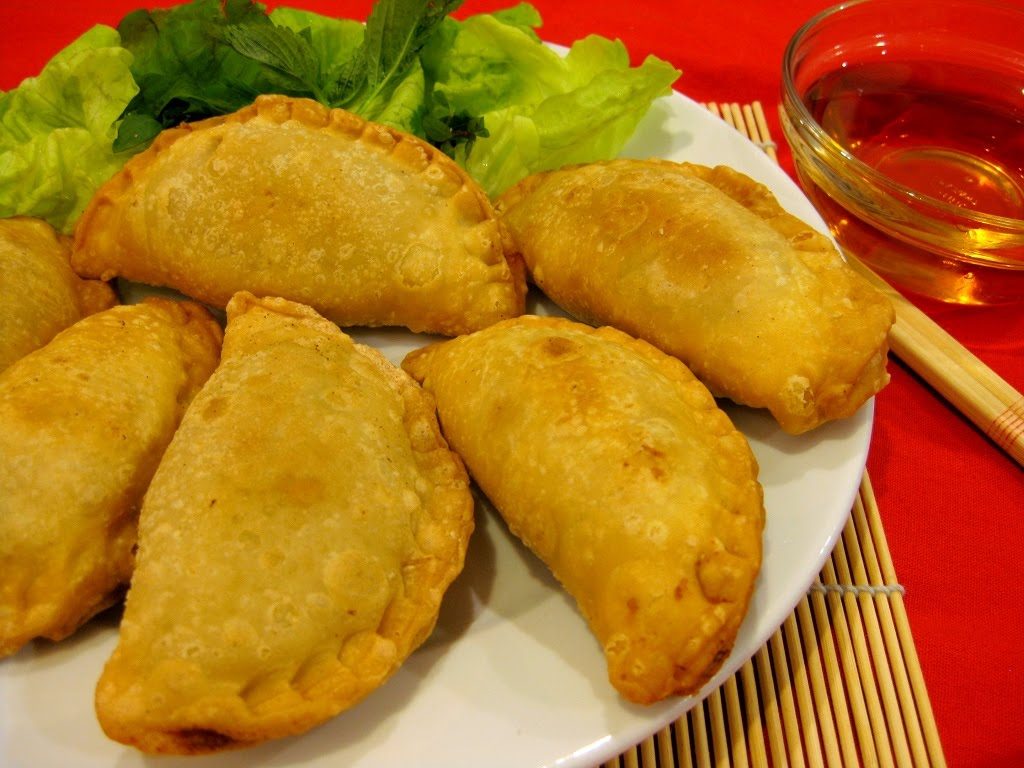 In the mood for something fried? Banh goi is the answer. It's somewhat of a savory pastry with a crispy outside you'll love. Inside, you'll find a flavorful mixture of minced pork, vermicelli, and mushrooms. These make an incredible snack!
21. Pho cuon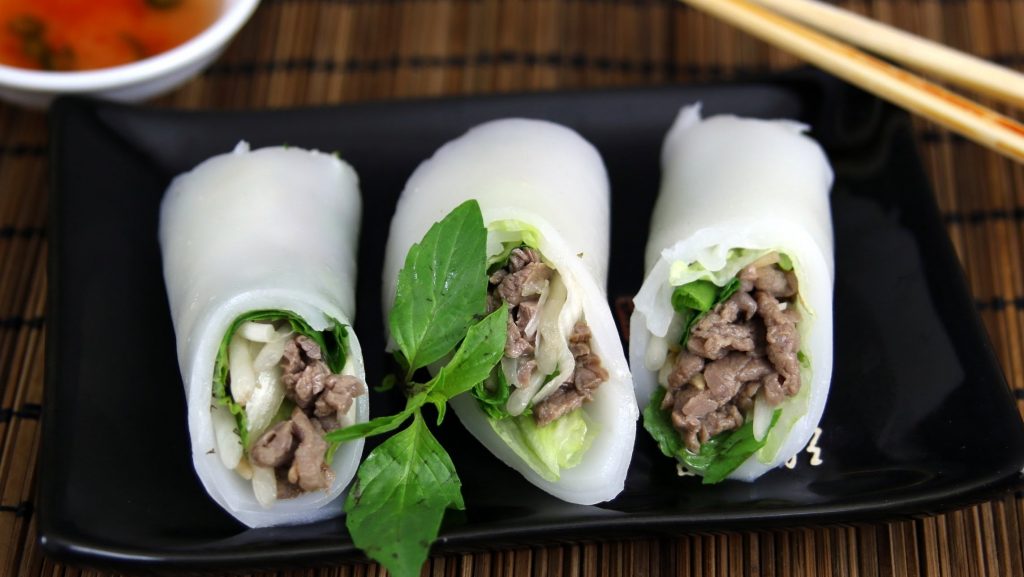 Think of it as pho on the go! These spring rolls combine pho and goi cuon within the confines of uncut sheets of pho noodles. Every bite is tastier than the next as you delve deeper into layers of fried beef with herbs and a crisp fresh green vegetable like cucumbers or lettuce. It's such a satisfying food on every single level.
22. Com rang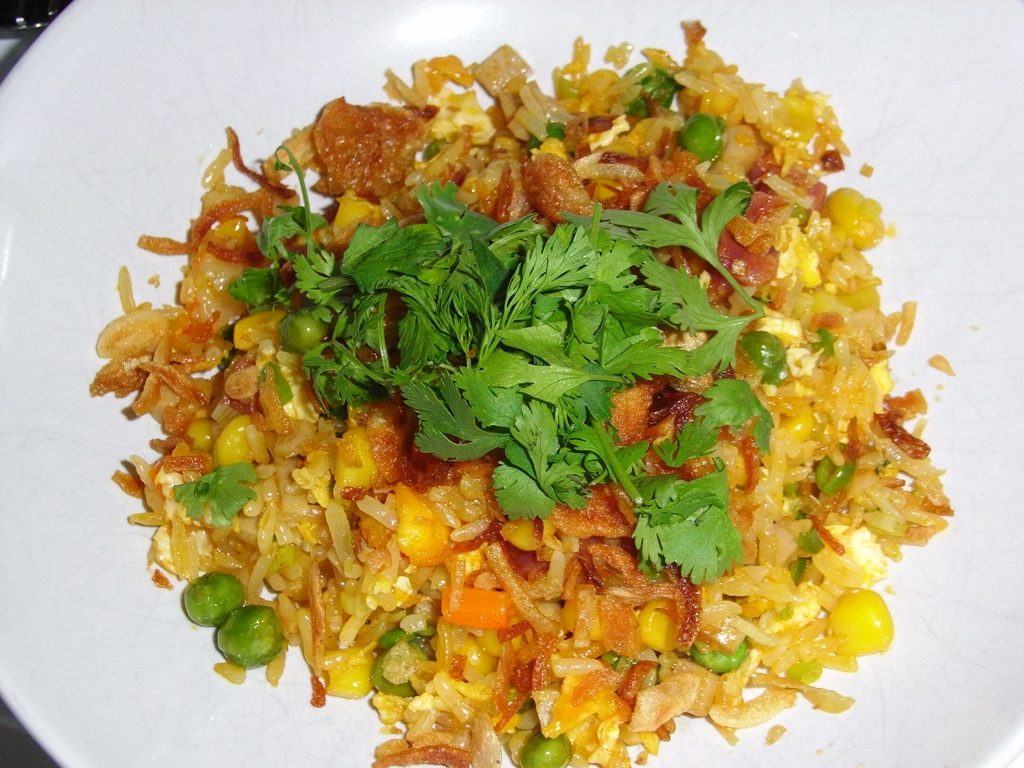 In every Asian nation from Japan to Singapore and in between, fried rice is easy to find. However, Vietnamese fried rice is definitely worth trying. Bite sized chunks of meat, vibrant veggies and rice are wok-fried on the streets with plenty of fish sauce and soy sauce to round it out.
23. Ca phe trung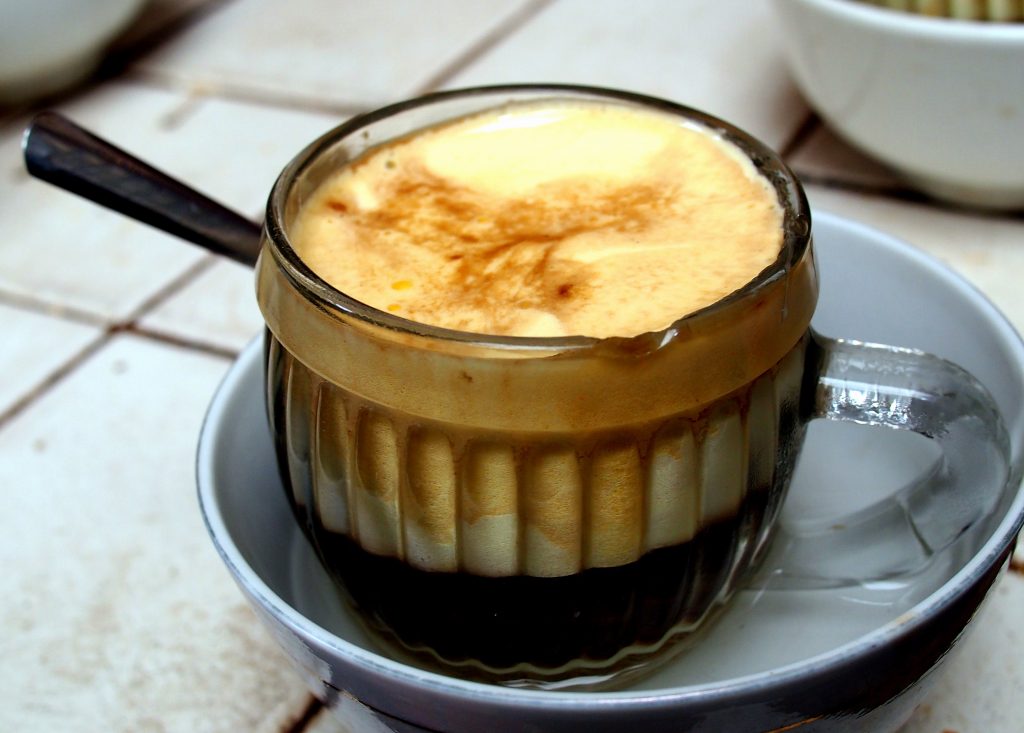 If you're searching for something sweet, this drink that doubles as a dessert will set you right. It translates to "egg coffee" and you shouldn't miss out on this. It's a soft and creamy foam of egg white served on top of Vietnamese coffee.
24. Che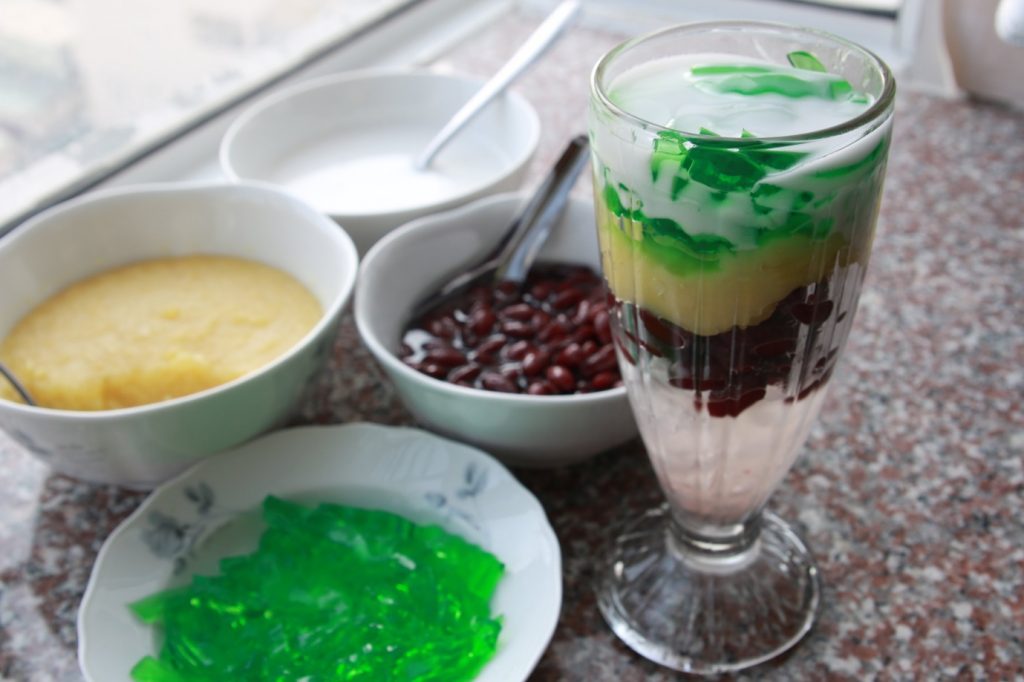 And now onto one of the most wonderful desserts you'll find in Vietnam. Served in a glass, you'll be treated to the layers of color and get to dig your spoon down deep with delight to capture all of them. The layers are made of coconut milk, bean jelly, fruit, and ice, making it a sweet and lovely way to cool down.
25. Hoa qua dam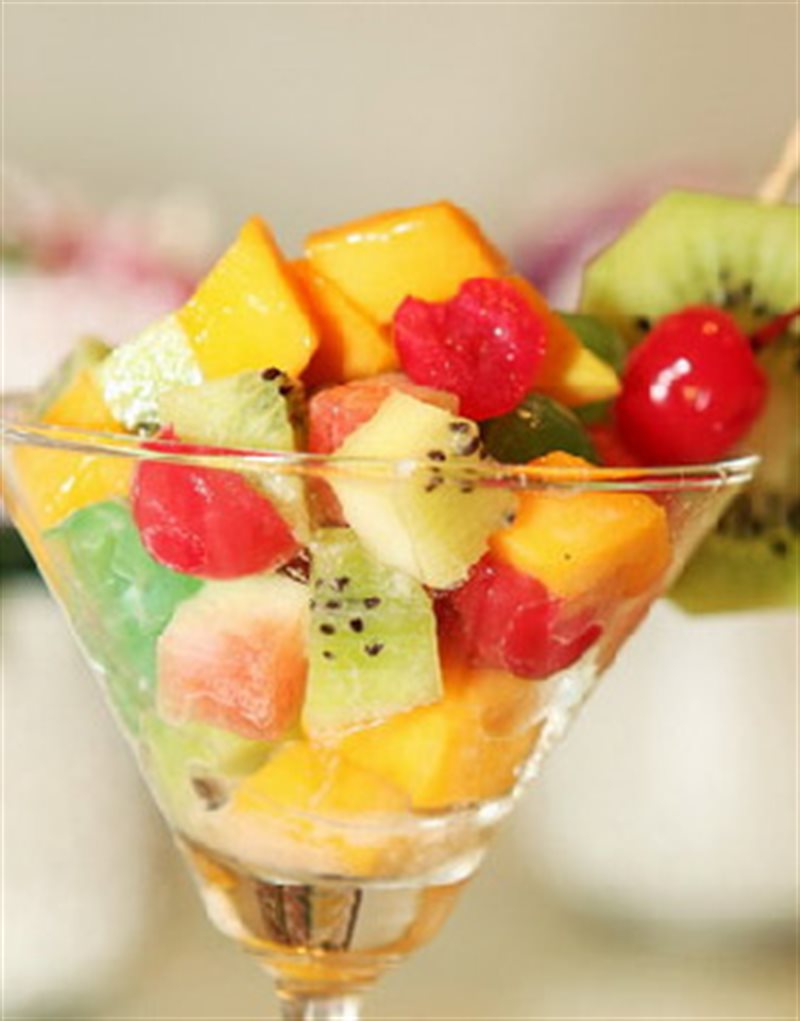 And finally, summer visits to Vietnam definitely call for plenty of hoa qua dam. For a healthier version that will satisfy like ice cream, get the shaved ice version of it. But if you're not counting calories during your travels, live it up by enjoying it full force with condensed milk for a rich and cooling dessert.
By now, your mouth is likely watering away. May we suggest that you pack an extra towel for that on your travels to Vietnam. Let's see how many of these fantastic Vietnamese dishes you can try during your stay!
More informations :