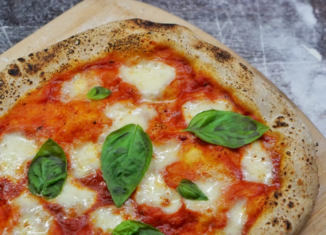 If you're a foodie, then you know that Italy is a mecca for amazing cuisine. There are so many delicious regional dishes to try, it can be hard to narrow it down. Here are the top 6 must-try regional dishes from Italy. Buon appetito!
Pizza from Naples
The city of Naples is widely acknowledged as the birthplace of pizza, and the authentic pizza Margherita. The meal is believed to have originated in 1889, when Queen Margherita visited Naples. Raffaele Esposito, a Neapolitan pizzamacboy (pizza maker), created this meal to represent the Italian flag – with red tomatoes, white mozzarella and green basil – in dedication to the authorities. Pizza Margherita became an immediate classic due to its delicious combination of flavorful toppings. To this day, it remains one of the most popular pizzas around the world and continues to be the quintessential example of traditional Neapolitan cuisine. If you can't fly to Naples, try snagging some from a local restaurant like Italian Fiesta Pizzeria.
Pasta all'Amatriciana from Rome
Originating in Rome, Pasta all'Amatriciana is a deliciously hearty dish of pasta with bacon, onion, and a tomato sauce. This classic Italian recipe has been traced back to the town of Amatrice and is beloved by locals and visitors alike. The combination of flavors—from the smoky saltiness of the crispy bacon to the brightness of the tomatoes—fills your taste buds with delight. Large chunks of onions add texture and sweetness that complements the bacon perfectly. Accompanied by fresh Parmigiano-Reggiano, this classic cuisine offers an amazing balance of textures and flavors for a perfect dinner.
Risotto alla Milanese from Milan
Risotto alla Milanese is an Italian classic hailing from the heart of Milan. This luscious, creamy dish has been a staple in Italian cuisine since the 16th century. It combines classic risotto rice with saffron to create a fluffy texture and an irresistible yellow hue. With its simple yet sophisticated ingredients, Risotto alla Milanese is perfect for beginners or experts alike. It's incredibly flavorful and versatile nature means it's easy to adapt to different tastes and preferences. So if you're looking for something special to treat yourself or your guests, Risotto alla Milanese from Milan is sure to satisfy!
Polenta from Trentino-Alto Adige
Polenta from Trentino-Alto Adige is a dish with a rich history and culture. This humble cornmeal porridge can be baked, boiled, fried, or grilled into a variety of different shapes and sizes. The possibilities are virtually endless when it comes to the various toppings that can be added to transform traditional polenta into a flavorful and delicious experience. Whether it's mushrooms mixed with cream, tomatoes stewed in garlic and basil, sausage and peppers, or chives mixed with melted cheese, the combination of textures and flavors makes this crowd-pleasing dish truly delectable. Polenta from Trentino-Alto Adige is sure to be a hit at your next gathering!
Panettone from Milan
Milan is known around the world for its iconic cultural offerings. One special delicacy nobody should miss is panettone; a sweet, spongy bread loaf enjoyed by residents of Milan during the Christmas season. This pastry delicacy traces its roots to the 16th century, when a female baker created it in honor of Duke Lodovico Sforza's failed plan to kidnap a rival pirate family over Easter. Since then, panettone has been helmed as The City's official holiday pastry, and is viewed as a symbol of offering and friendship in Milan. Each individual loaf is usually decorated with dried fruits such as cherry, figs, or raisins. Only original Panettone from Milan contains 'candied orange peel' – the key ingredient that separates this regional treat from the plethora of 'copies' made in different countries around the world. Experience Milan's distinct gift to holiday baking this upcoming season!
Tiramisu from Treviso
Tiramisu from Treviso is a classic Italian dessert with layers of flavor and texture. A base of Ladyfingers biscuits, soaked in rich espresso coffee, provides the crunchy feel that draws you into the dish. Topped with creamy mascarpone cheese and dusted with cocoa powder or shaved chocolate, this sweet treat pleases your palette as well as your palate. An added touch of freshly grated zest of orange sets off moist bite with a hint of citrus bringing all the flavors together perfectly. Try Tiramisu from Treviso for a classic Italian dessert that is sure to impress.
There you have it – a list of some of the most iconic and delicious dishes that Italy has to offer. What's your favorite? How many of these have you tried? If you're planning a trip to Italy anytime soon, be sure to add these items to your must-eat list!